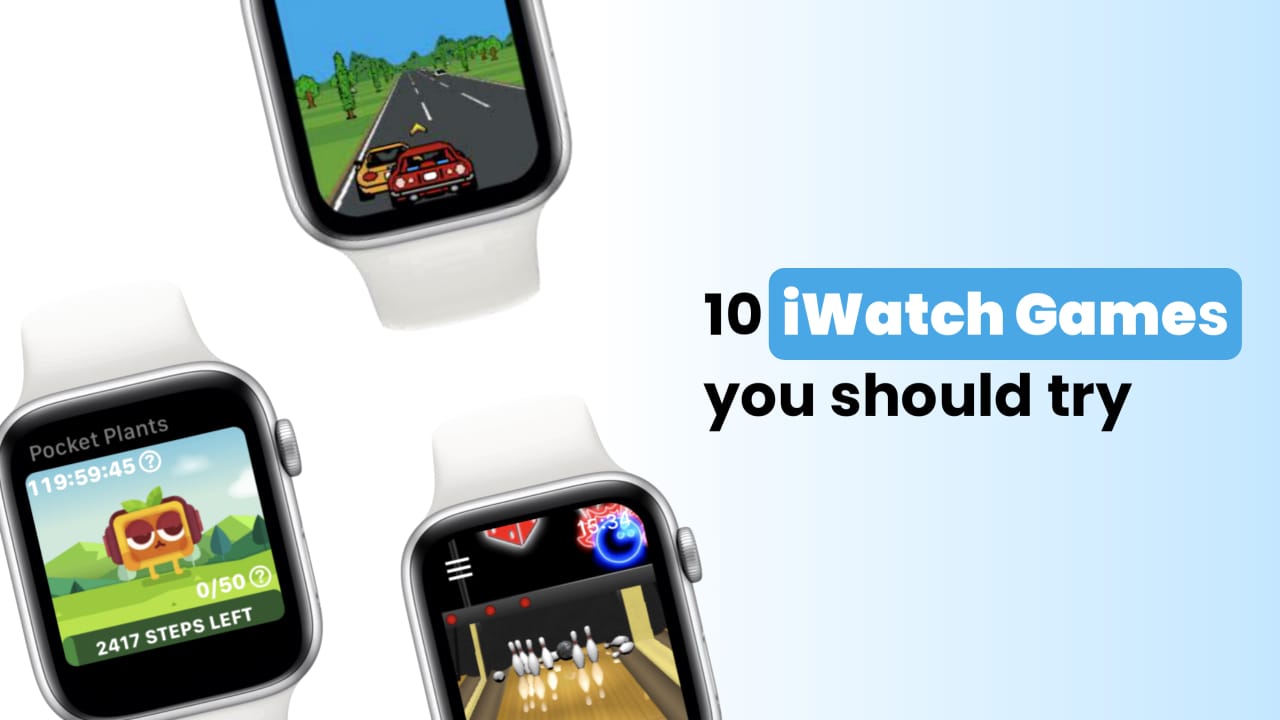 The Apple Watch is a heavy piece of gear, and You probably don't think that Apple Watch is a gaming device. But the apple watch can blow off smoke with many games that will be instantly enjoyed on your wrist for free.
Watching time is not its primary or even secondary role. But you obtained it on your wrist anyway. Finally, you need to download a few new fun games when you have a little extra time. (sometimes, you need to sign in on your iPhone before starting your games)
Here we discussed some of the best Apple Watch games that you can have with you to play anytime and anywhere.
1. Ping Pong
Ping Pong is much more addictive in 2022 with its entertaining and efficient features.
Pros:
This

Apple Watch game

has 60 levels to explore.

It has numerous modes.

In This game, you can play with your friend.

You can also connect with your iPhone, which can be played with a multiplayer connection.
Cons:
In this game, you have to pay to unlock every level.

You have to cope with a multi-transactions format.
2. Dare The Monkey
If you like to play platformer games, Dare to Monkey is ideal for you to play on an iPhone watch.
Pros:
In this

Apple Watch game,

you aim to locate many monsters and traps to conclude every level.

This game is free to play on apple watch series 3,4,5,6, and 7.

This Dare to Monkey game is  As tough as it is fun.

For the apple watch screen, this game's adorable graphics are ideal.
Must Read: Top 10 Best FREE CAD Software
3. Jupiter Attack
Jupiter Attack is the most played top game with an old-fashioned feeling on Apple Watch.
Pros:
This

Apple Watch game

is all about Space invaders trying to capture the earth, and your only duty is to save the earth from those invaders.

The game aims to gain the greatest probable score, whether you destroy the spaceship or skip over them. It is completely upto you.

A power-up option is available, and it has endless levels.

This game keeps you busy and entertained for some time.
Cons: 
Reaching a higher level, this game gets complicated.
4. Infinity Loop
Infinity loop is a puzzle game in the Apple Watch game. It is also a very relaxing game.
Pros:
The aim is to rotate the pieces to create an infinity loop with them

This game seems easy, but it gets tough enough to keep you busy after some time.

The graphics of the game is very soothing and eye-catching, and you never want to stop the game.

You can create your puzzle and can share it with other players.
Cons:
This game has some drawbacks, like it takes time to load. But fortunately, it gets solved with its recent update.
5. Tiny Armies
Tiny Armies is a combined game with strategic and puzzle components created to test your brain skill.
Pros:
The game aims to defeat the opposite armies. It would be best to plan properly to attack enemies based on the situation.

You can select guerrilla warfare or full frontal attack.

You can also play with your friend through multiplayer mode or iMessage.
Cons:
Its only drawback is repeating the stages of play, which disrupts a player's game flow.
6. Pocket Bandit
Pocket Bandit is the most underappreciated and yet an excellent game with significant features for Apple Watch.
Pros:
This 

Apple Watch game

is mainly puzzle-based, where you need to open the safes.

You must use Apple Watch's Digital Crown feature to open the safes.

First, you have to orient the crown until the crack opens.

You have experimented with sound and the watch's vibration to find the proper combination.
Cons:
This game recently suffered from bugs and a freezing issue, but the developer resolved this problem in due course.
7. Square Bird Watch
Square Bird Watch is similar to the game of Flappy Birds with its stylish and appealing versions.
Pros:
This

Apple Watch game o

ffers blocky stylish visuals that challenge increase gradually.

The aim of this game is for you need to keep the bird flight by tapping on the screen at the proper times.

You do not allow the bird to collide with anything in the surrounding.

You need very much concentration; one mistimed tap, and your game is over.

You can use some of the new bird features to help you faster.
Cons:
The developer did not involve so many incentives, which might create difficulty in progress.
8. Snake.io
Snake.io is a classic snake game we all played on our phones earlier.
Pros:
The larger the worm gets and obtains higher the score.

You can play with another player who also tried to get a high score gives a battle feeling.

Mass eject booster makes it more flexible than earlier incarnations.
Cons:
This

Apple Watch game

has no leaderboard feature, so you can not compete with your friend online.
9. Trivia Crack
Trivia Crack is the best game when you compete for trivia supremacy with your friends.
Pros:
With the willy wheel, you can choose questions from various categories.

The winner has to score the highest in all six categories.

This game will not exhaust your battery life, yet it is lengthy.
Cons:
The only negative point of this game is that the free version contains too many advertisements, which is very disturbing when players want to play.
10. Snappy Word
Snappy word is the best crossword puzzle game on Apple Watch.
Pros:
Snappy Word consists of the best mechanism, which keeps the game in interesting and exciting mode.

This 

Apple Watch game

is straightforward and easy to play.

You are offered a sequence of randomized letters related in a specific order to disclose the hidden words.

These letters might have two letters or sometimes have five letters.
Cons:
There are many advertisement disturbances in this game.
Conclusion
You can install many free games to play on Apple Watch. As with other applications, some have one-time fees or in-app purchases. Finding good Apple Watch games on the App Store is not difficult. It has great choices, including free Apple watch games for your watch. 
After reading this article, when people ask what games can be played on Apple Watch? Then you can proudly say that you know everything about the games on Apple Watch.