To make a professional pc gaming career, technical aspects like graphics card, processor, ram, etc, get the most attention. But there is one thing that often gets neglected but has a more significant role while playing pc games and it is choosing the best pc gaming chair.
Getting a pc gaming chair is like choosing a pair of shoes while hiking over the mountains. If your chair isn't comfortable for you then the overall gaming experience will slightly go in vain.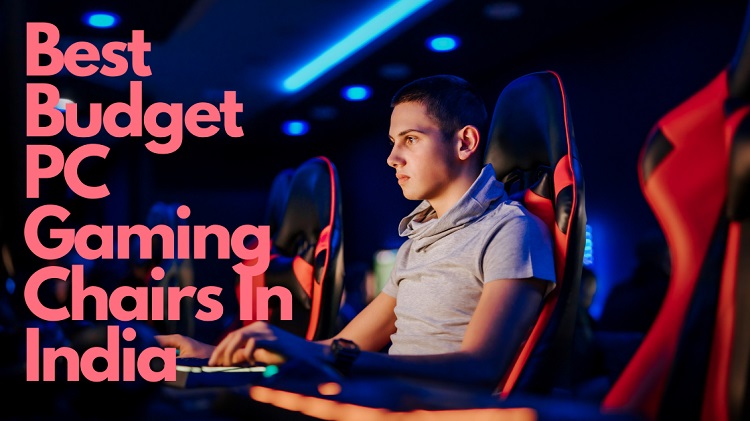 You should be wise while deciding your pc gaming chair as you are going to spend a quarter or half of your day time, and nobody wants severe back and body pain while enjoying the gaming moments. Well, a pc gaming chair is specifically made for gaming purposes than an ordinary office chair.
So, there must be a smart decision while picking one pc gaming chair from thousands. And here in this article, we have chosen up a normal budget range for getting the best decent pc gaming chair that could be easily affordable by any gamer who is serious about his/her gaming career.
Below the pc gaming chair suggestions, we have a separate guide about how you should choose a dedicated pc gaming chair. So, let's dive in and know about the top pc gaming chairs under an affordable budget.
List Of Best Budget Gaming Chairs In India 2021
The first ergonomic designed gaming chair on our list comes from the Pulse gaming brand. To relieve your back and neck pain, it is equipped with two adjustable pillows.
PU Leather material is used for manufacturing this gaming chair with molded foam. The molded foam adds extra padding to the chair, an extra layer of comfort. The black and red combination enhances the overall gaming setup look. Those users, who have a budget of 15k may choose this pc gaming chair.
A fully black colored gaming chair of Green soul brand creates a charming vibe in the room. Made with breathable fabric to make a softy experience while playing games. The armrest of the green soul has the 4D feature for better adjustment accordingly.
Have neck, lumbar pillow, and adjustable height feature as usual. The most unique feature of this pc gaming is its 180° adjustable backrest, which is capable to bend the back of the chair to the seat surface. The current price of the Green soul GS-734U chair costs around 19k. If the features satisfy your budget then surely go for it.
The junkkre gaming chair feeds with a lot of ergonomic features. The first impression of the gaming chair is the metal frame that provides a strong outline design. It has an adjustable arm and cushion support for both the head and waist.
The adjustable backrest tilts up to 150° which is again a superb function. It has also a footrest option to make the legs pain free. The features loaded in this chair make the cost of the chair at 15k, and it might be a good option if you're into professional gaming.
Comes with Headrest Pillow
Dratal brand presents a stylish and fashionable pc gaming chair that is packed with a steel frame at the front of the chair. Fully adjustable chair for height, armrest, and backrest up to 180°.
The retractable footrest and noiseless racing wheel add another layer to the dratal gaming chair which overall makes the gaming chair professional. The amazon price of this pc gaming chair surrounds at 15k, interested buyers can go for it.
The black and blue colored design pc gaming chair of genesis brand makes it position to no.5 in our list. It is featured with nylon artificial leather that attracts the visitors arriving in your studio.
It has an adjustable height and armrest option to make the position as comfortable as you want. For taller ones, this chair might be a good choice if they are within the budget of 10k.
Another premium chair comes from the Transformer series of CellBell brand. It is loaded with a metal frame and fabric PU leather. The seat of this chair is specifically made with molded foam for better comfort. It has two soft pillows for both head/neck and lumbar support.
The solid caster wheels make the pc gaming chair more durable and safe. The angle of tilt of the backrest goes from 90° to 170° which is quite good as compared to other chairs in this budget range. Coming to the price point, it has a 16k selling price at Amazon India.
Made from High Quality Materia
Now the last product suggestion is suitable for both gamers and normal pc users. The affordable low budget office chair featured from Savya home brand, who are known for their office chairs. This one offers a breathable premium mesh for absorbing the body sweat.
Adjustable height, neck pillow, and lumbar support are the key features of the Savya home office chair. The backrest bends up to 125° that is perfect for office works and normal gaming. If you have a budget of 5k, then this chair must be your first choice.
How To Choose Your Best PC Gaming Chair
1. Design
Design is the one such factor that nearly every gamer consider while getting a gaming chair for themselves. Color combination, type of lights, gaming style as per the gameplay, and many other aspects leads to a perfectly designed pc gaming chair. So, it's up to you which gaming chair will match your overall setup and attitude. The type of style and shape makes the pc gaming chair, excellently designed.
2. Ergonomics
As per basic meaning, ergonomics is an application of developing products that meets the psychology and physiology properties of the product made. As nobody wants to welcome unnecessary body pain while completing the gaming mission.
A pc gaming chair should be such, that maintains your body posture and fitness. And in the case of gaming chairs, the following are the points that deal in enhancing comfort as per ergonomics factors.
a) Armrests
After hustling intense gameplay, you need smooth armrests for supporting your elbows and hands. And when there are no smooth and comfortable armrests, then purchasing a gaming chair will be of no use.
Apart from armrests' comfortability, you should take a look over the directionality referred to as '2D, 3D, 4D'. For adjusting the armrests in multi-directional, it's better to look for the type of directional in the gaming chair specification section.
b) Lumbar Support
Back pain is the most common issue addressed when sitting over any chair for a long time. And if there isn't any support for the spinal area, then you are likely to receive back pain at the time of rest. In-built pillows can help to avoid lumbar pain and relieving stress, so considering lumbar support is a must regarding pc gaming chairs.
c) Head/Neck Support
Just like the lumbar pain, the head and neck are the other parts of the body that are going to meet the stress. And nowadays, you might have seen an additional neck rests feature in pc gaming chairs, and this is specifically made to soften the discomfort of the head and neck. Hence, do check the feature of neck rests while opting for a gaming chair.
3. Material
Have you seen which type of material is used in the gaming chair that you are going to get? there are two basic materials that you are expected to see, i.e 'Leather or fabric'. Both of them have their advantages of using, if real leather is used in building the chair then it should be your first choice for getting the chair if you're much more conscious of durability.
On the other hand, the fabric could be a better decision if you want a soft feel than a rigid one. Both materials are breathable that can reduce sweat and make it cooler, fabric chairs are much more breathable than leather ones but are less resistant to water. So, you should do some scientific research when buying a pc gaming chair.
4. Size
Gaming chair size should be selected as per the user. Although, gaming chairs are manufactured with the average height and weights, in case of specific you should consider the size and shape of your pc gaming chair.
If you're a 6 ft person, a small office or gaming chair won't be suitable/comfortable for you, instead, it would be best for kids. Well, size can't be a major factor if the gaming chair features an adjustable height function.
5. Budget
India is a price-sensitive market, but choosing a durable, reliable, and quality product makes the price worth it. And this guide is individually made on the 10000₹ budget. So, the above-mentioned products are the best ones, terms of quality, specs, and features. Hence, to get the quality gaming chair, you must move your budget up to 10000 or later.
You may also like-
Conclusion
Just as choosing the best gaming mouse, you are also gonna need to get the best pc gaming chair for your gaming career. And as we know it's not always a simple go and gets method to choose any smart types of equipment, as the products suggestions are uncountable.
This guide was a stress buster about getting the best pc gaming chair as per an affordable budget. We hope this article has cleared your doubts about choosing pc gaming chairs. If there is anything that should be suggested, then comment below and let us know about it.