Best Fitness Tracker In India
Are you a gym freak? and still haven't purchased the fitness tracker (or fitness band) then it's a great opportunity for you to grab one, as today in this article, we are going to list some of the best fitness trackers available in India of all budget range.
In this busy lifestyle, managing your health and fitness has become so complicated. However, thanks to modern technology because Now we have some advanced fitness trackers that keep notifying you about your health metrics while doing any workout or exercise.
So, getting a fitness band is a must if you're more health/fitness oriented. And to make your work easier, we have attached the Fitness tracker buying guide as well, so that you don't have to regret later by purchasing a fitness band which did not meet up to your expectations. Hence, it's to review the top best fitness trackers in India, so here we go…
Must Read: Best Portable Bluetooth Speaker In India 2020
List Of Best Fitness Tracker In India 2020 – Top Activity Tracker In India
[table id=14 /]
Best Fitness Band In India 2020 – Buyer's Guide and Review
1. Fitbit Charge 3 Fitness Tracker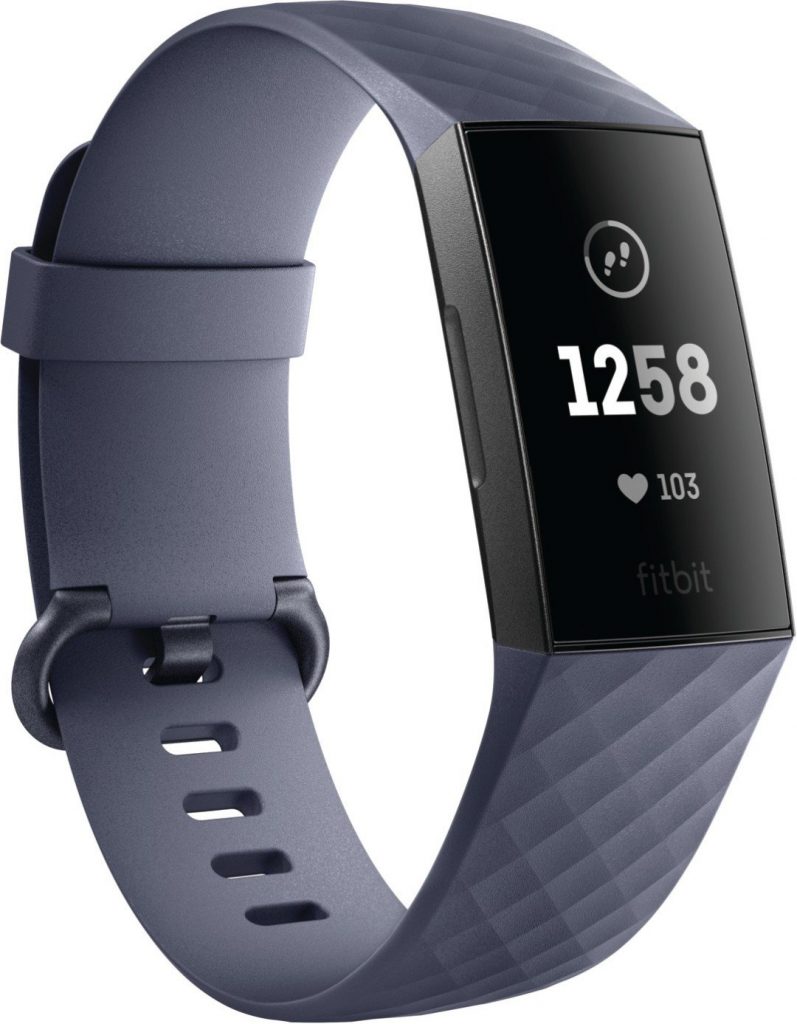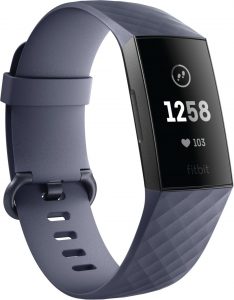 Fitbit is one of the Best Fitness Tracker In India. Fitbit is especially known for its fitness products and smart bands, and Fitbit charge 3 is one of them where you get almost every function to keep tracking your fitness goals.
Starting with the look/style, it comes with a silicone strap and OLED touch display to view the health metrics and date/time. It has three sensors i.e, accelerometer, altimeter, optical heart rate sensor for fitness trackings like sleep and heart rate monitoring.
The smart band can be paired with the Fitbit app via Bluetooth connection and it is compatible in both android & ios. It is water-resistant up to 50 m, so you don't have to be concerned about your fitness band while swimming.
If we talk about battery life, it lasts up to 7 days on one single charge which is quite good. And the price of this lightweight Fitbit charge 3 band costs around 10k, so if you're a fitness freak then must go with this product for sure.
*Highlights –
OLED Gorilla Glass Display
Heart Rate Monitoring
Advanced Sleep Monitoring
Water-Resistant
Battery Life Lasts Up To 7 Days
Compatible With Android & iOS
2. Garmin Rubber Vivosmart 4 Fitness Tracker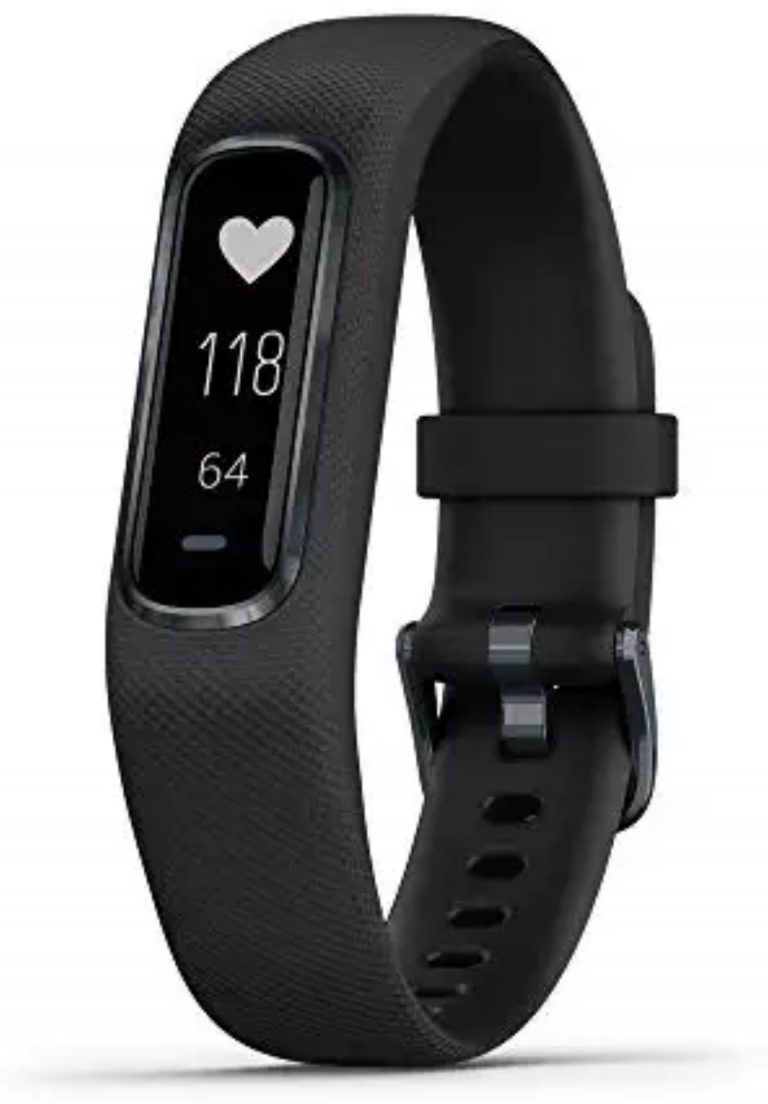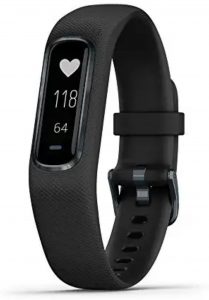 Garmin's rubber vivosmart 4 is a slim, stylish, and smart designed fitness tracker made for gym enthusiasts. The touch display of the fitness band auto-adjusts its brightness according to the lighting levels.
The pulse OX sensor of the smart band lets you track the oxygen level of your body. There is also another activity tracking functions like heart rate monitoring, sleep monitoring, stress, and body energy monitoring that helps to keep aware of you from your health.
It is water-resistant for pools and shower. The strong battery life of the Garmin smart fitness band offers 7 days backup for uninterrupted monitoring. This fitness tracker comes under the price of 14k, so if the features satisfy your needs then you can think of making a purchase.
*Highlights –
Wrist Based Heart Rate Monitoring
Advanced Sleep Monitoring
Water-Resistant
Battery Life Lasts Up To 7 Days
Vibration Alerts For All Notifications
Compatible With Android & iOS
3. Fitbit Inspire HR Fitness Tracker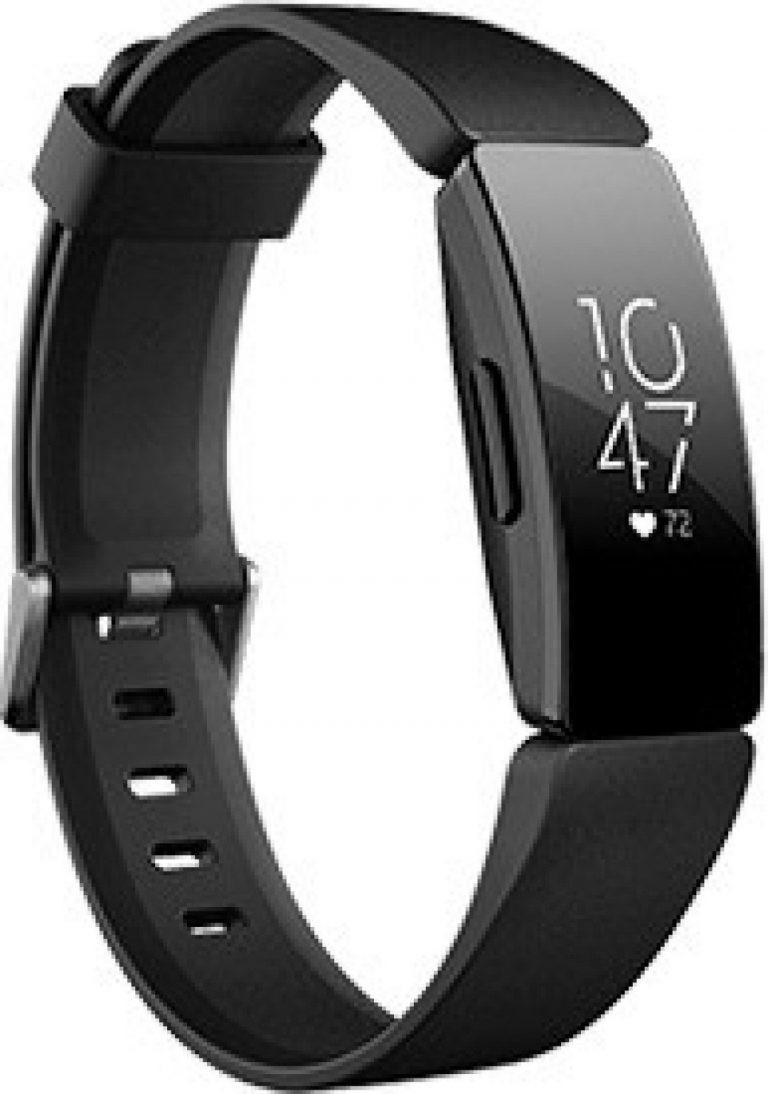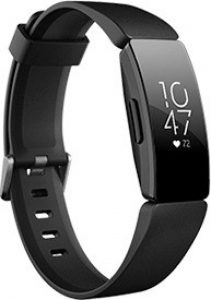 Another best fitness tracker from the Fitbit brand under 10k budget. Fitbit inspires HR lets you track your steps, distance, calories burned, and active minutes each day.
Answer your calls and reply to your texts with the backlit OLED Display by swiping and scrolling. The smart band has GPS tracking to see real-time pace and distance on your wrist.
Pool lovers don't to be worried about any damage because the fitness band is water-resistant up to 50 m deep swim.
Talking about the battery life, the Fitbit inspires hr offers up to 5 days battery backup which varies on the usage as well. This smart band is an alternative to Fitbit charge 3, so you can consider this fitness tracker as your fitness coach too.
*Highlights –
Heart Rate Monitoring
Calories, Sleep Tracking
GPS For Realtime Distance Tracking
Battery Life Up To 5 Days
Compatible With Android & iOS
4. Samsung Galaxy Fit E Fitness Tracker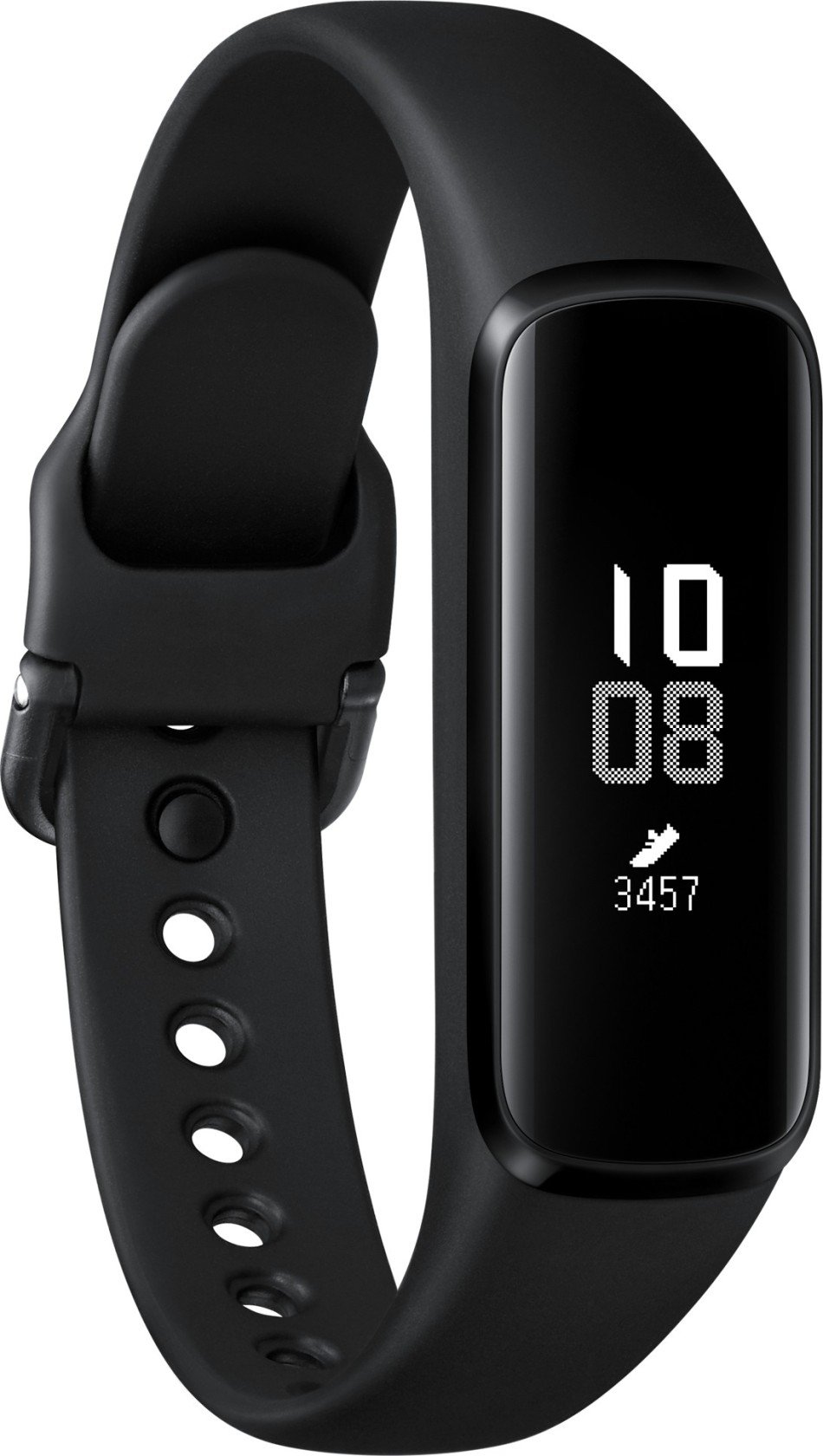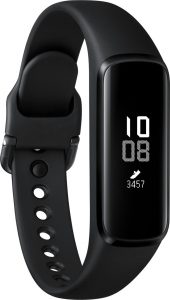 Another Best Fitness Tracker In India. Samsung Galaxy Fit E is a durable fitness tracker with a bunch of fitness tracking functions such as heart rate, sleep patterns with a special workout-tracking where it automatically detects three activities, including walking, running, and dynamic workout.
With its Samsung health application so you can easily check and monitor your fitness status. The fitness band has PMOLED simplified display for viewing your fitness records. It is a water resistance fitness tracker of 5ATM, better for swimmers.
It is a lightweight, budget-oriented, comfortable fitness band for those who need to keep track/capture their health metrics. The price of this Samsung smart band is around 3k, and getting this with such cool features would be a great choice.
*Highlights –
PMOLED Display
Water-Resistant
Accelerometer, HR Sensor
70 mAh Battery Life
Lightweight & Durable
5. Mi Smart Band 4 Fitness Tracker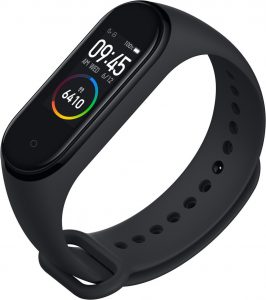 Amazon's choice and India's no.1 fitness band smart fitness track comes from the Xiaomi brand. The full-color touch display of mi smart fitness band is made up of AMOLED with adjustable brightness to view the activities more clearly.
It tracks multiple fitness activities including running, swimming, heart rate monitoring, running, walking, cycling, and treadmill. It is water-resistant up to 50 m with swim tracking.
The thing which makes the band unique is its battery life, it lasts up to 20 days after one single charge. In terms of controlling, it can control music volumes, song tracks, calls, texts, etc., This mi smart fitness band costs around 2.3k, and getting this fitness tracker would be a good decision.
*Highlights –
AMOLED Color Full-touch Display
Sturdy 5ATM Waterproof Built
24/7 Automatic Heart Rating Monitoring With Alerts
Deep Sleep Monitoring
Up To 20 Days Of Long Lasting Battery Life
6. Honor Band 5 Fitness Tracker

Another low budget with great functions smart fitness tracker from Honor brand. The Honor Band 5 comes with a colorful touch AMOLED display with multiple watch faces.
The SpO2 monitor helps you to track your oxygen saturation levels and trustleep monitor for sleep, heart rate, and breathing. To stay motivated with music, it has controls to change the song and adjust the volume easily.
It is 50-meter water-resistant with a built-in six-axis sensor automatically recognizes four swim strokes. In terms of battery performance, the fitness track runs up to 14 days with a single charge.
*Highlights –
AMOLED Touch Large Color Screen
Scientific Sleep & Heart Beat Monitoring
SpO2 Monitor
Smart Music & Volume Controls
50 Meters Water-resistant
14 Days Battery Life
7. Fastrack Reflex Beat Fitness Tracker

The Fastrack reflex beat is a rubber fitness band with an active heart rate monitor at a low budget range. It has an OLED touch display with a water resistance of IPX6 to dive-in without any damage issue.
You can control your basic mobile functionalities like cameras, text messages, phone calls. etc., This Fastrack fitness band has a phone finder feature so in case your smartphone gets lost, you can use this feature to find it.
The inbuilt alarm can help you to notify about a daily workout and physical exercise. This band comes with a long-lasting battery that lasts up to 10 days with a time charge. It can be a good choice to go with this smart fitness band if your budget is under 1.5k.
*Highlights –
Active Heart Rate Monitor
Phone Finder Feature
Vibrating Alarm
Compatible With Android & iOS
50 Meters Water-resistant
10 Days Battery Life
You may also like-
Best Fitness Trackers Buying Guide
If you want the best fitness tracker in India for yourself then must read this buying guide.
1. Purpose/Types Of Fitness Band
Now there are always some reasons behind doing something, the same case goes with Fitness bands. Think about your purpose behind buying your fitness tracker, well, of course, it's about tracking your daily fitness/health activities like walking, jogging, swimming, etc.,
However, you might find different types of fitness trackers in the market, most of them are just made for basic tracking (also called All-day trackers) and some for advanced ones like counting heartbeat, measuring sleep patterns, skin temperature, swim speed, etc, So according to your budget, look about the function that your Fitness tracker gonna do and then make a purchase.
2. Sensors
How many sensors do you fitness tracker have? well, it's obvious to keep a record of your fitness work, the fitness band must have the sensors for tracing your health metrics. The following are the common sensors that you should look into your fitness band :
Heart rate monitor for tracking your pulse while jogging, or any physical exercise
Accelerometer to measure your movements like up-down, front-to-back, and side-to-side
Gyroscope to know your position whether you're standing, sitting, cycling, etc,
Magnetometer for analyzing specific movements like in which direction you're moving in
GPS to track your current location
Barometer to track the number of steps you've walked
Check out the product description and look at whether your fitness tracker is powered with the above sensors or not.
3. Look/Comfort
You're going to wear your smart fitness band 24/7, and what if it's not comfortable wearing? and what if the look/style doesn't suit you? you need to answer these questions because apart from fashion, the other main thing is comfort.
Because, to track your sleep and heartbeats, you have to wear your fitness band even while you're sleeping. So, it must be smooth for your wrist to keep monitoring your health activities.
4. Battery Life
Unlike smartwatches, fitness bands must have good battery life and charging time. As if your smart device is dead itself then what's the point of wearing it. Well, the battery life of any fitness tracker depends upon the sensors/features you're using.
Still, a good fitness tracker must last for at least 1 week in a one-time charge, or buying a fitness band won't be worth it for you. Look for the fitness tracker that has a decent battery life in your budget range.
5. Display
It would be a great decision if you buy a fitness tracker with a LED or OLED touch screen display because pulling out your smartphone from pockets isn't an option for accessing basic data.
Apart from functions, the display must be good enough for viewing in indoor or outdoor lighting. Also, analyze the display size when getting a fitness band, it shouldn't be too small either too big.
6. Notifications
Does your fitness tracker alert you with real-time notifications? because, fitness bands are focused on health and fitness metrics, so it must also act like a smartwatch to keep notified you of your day to day notifications like phone calls, text messages, emails, etc., You should also look for an alarm type feature to keep alerting you for walking, jogging on a specific time of your daily life schedule.
7. Compatibility/Connectivity
Your fitness tracker is going to pair with your smartphone via Bluetooth connection and you must know whether the fitness band is compatible with your smartphone or not.
Say if you're an iOS user and you purchase any random fitness tracker on the above points, and now it's not getting connected with your mobile phone? what would be your reaction? So, take a drive and look for the connectivity and compatibility of that fitness band and if your smartphone is compatible with the pairing then go for it.
8. Waterproof
In the upper section of the article, we talked about that you're going to wear your fitness band for almost day tonight, and it's obvious that you're still gonna wear your smart band while bathing or swimming.
And what if it's not water-resistant? well, some brands claim to provide full waterproofing, but it's not always true. Dig deep and go through the customer reviews to check whether the smart fitness band is made up of IPX6 water resistance or not.
Final Words
So these are some of the Best Fitness Tracker In India.  Fitness trackers are best for those who're more focused on doing exercises/workouts and keeping their body fit. And if you think wearing a fitness band would make you fit and it's not gonna do that, because the work of a fitness band is to keep aware you of your health/fitness by monitoring your fitness activities.
And our work was to provide you the best brand options to get your fitness tracker. So, if we are missing any fitness band that you think should be featured on this list, then let us know via the comments section.