To achieve steady success in this ongoing digital era, one has to produce the quality of content that delivers value and morals to the users. And when there is a talk about creating content through writing, a lot of aspects matter in terms of quality and uniqueness.
The more unique content you write, the more your stats will reach the heights. However, in various scenarios, the above statement gets exhausted due to the term 'Plagiarism' in this digital community.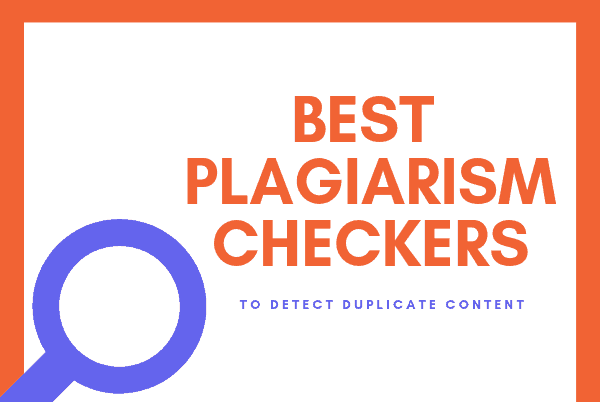 Plagiarism is referred to as such practice where someone else's content is being used for self-purpose, which is done without full acknowledgment or intentionally. And such a procedure affects the blog quality in terms of search engine optimization when it comes to boosting natural growth.
And to tackle it, one should be well-aware of writing plagiarism-free content which can be done by using tools called 'plagiarism checkers'. The work of the tool is to analyze your written content with the other published content over the world wide web to show how much your content is being already written on the internet.
And using the results, you can readjust your content with better language and arrangement to make it more unique as possible. So I guess, you might be waiting for the list of best free plagiarism checkers, and your wait is gonna end soon as we have listed the top seven plagiarism checkers which are absolutely free. Therefore, let's proceed…
List: 7 Free Plagiarism Checkers
Duplichecker is recommended for its clean & neat interface along with a free premium service that lets you do plagiarism scans. With the free plagiarism checker, duplichecker also does the grammatical work so that you don't need to use any other alternative for spelling & grammar stuff.
The tool has a 1000 words limit for the content, which is enough for a beginner. In terms of content importing, you get the option to upload any text file, direct URL, and text box. Overall, it's absolutely amazing for a blogger that runs a single blog with limited daily content.
Quetext is that plagiarism checker that doesn't ask the user for account registration when it comes to plagiarism checking. The interface of the website looks fine and doesn't bother the blogger while working on it. The user can copy-paste its content directly to the text box for plagiarism analysis, however, the tool lacks the option of file uploading and URL fetching.
Small Seo Tools is known for its various free services in the field of search engine optimization, and when there is a talk about plagiarism, small SEO tools still amaze us. The free plagiarism checker tool by the group allows you to scan about 1000 words of content, and the limit gets extended when you choose their premium service.
The tool doesn't require a signup procedure for plagiarism scanning, but still creating an account lets you explore more free services which lack for non-registered users. You can import your written content by uploading any text file, or just by pasting the content in the text box.
Copyleaks is another free plagiarism checker, loaded with lots of features and functions. Unlike others, copy leaks require an account for plagiarism checking. With the limited free edition, you get run plagiarism scanning for about 10 pages per month, which is quite nice as a beginner blogger.
There are three ways to import your content in the copyleaks, the first one is by pasting the copied content in the text box, the second and third are done by URL and file uploading. All of your scanned pages are saved under your account so that you can reaccess them at any time you wish.
Also Read: How To Apply For Slice Pay Card (Free Lifetime Credit Card)
Plagscan is yet another free plagiarism checking service that lets you scan pages under their free trial plan. You will need to register an account on the website and using the free trial, you will get about 20 scans a month.
The interface of plugs can is not mobile-friendly and seems complicated for the newbie. You can import the content via pasting, uploading URL, and any text file. Each import is marked as saved and can be edited at any time.
Plagly is a newly launched plagiarism checking service that is noted as 'freemium service' because of its amazing look and features. The website interface is quite easy to use, that doesn't bother with any type of ads.
The user can use the plagly tool just by pasting the content over the text box, without any signup procedure. With the free edition, you get 1000 words limit for plagiarism scanning. To boost the overall quality of this tool, it has a chrome extension that can be used on any accessible webpage for free plagiarism checking.
Just like Small Seo Tools, there is another SEO tools group called 'Prepostseo' that delivers free SEO services for newbie bloggers. And they have also got this free plagiarism checker with 1000 words limit for non-registered users.
While if any user creates an account, then the limit gets extended up to 1500 words limit for plagiarism content scanning. The interface of the website is loaded with advertisements but still as a free service, it's good for any aspiring blogger.
Also Read: How to Reset MS Outlook Rules Instantly?
Conclusion
In the field of writing, you must be aware of writing plagiarism-free content and the use of plagiarism checkers will let you do that easily.
Though there are tons of paid checkers available throughout the internet, however, free plagiarism checkers are fine too, when it comes to having a slight idea of how much your content has been already plagiarised.
So I guess the above top list of free plagiarism checkers might have helped you in writing unique SEO content, and if you know any other free tool then let us know in the comments section below.