Best Gaming Mouse Under ₹1000
The craze of gaming has always been in us since our childhood, at that time we used to play video games with those lovable joysticks, but if we take a look at today's era, things got changed. The trend of pc gaming has made its way towards the peak.
And, one thing which plays the ideal role in the success of your pc gameplay, is having the perfect gaming mouse. Having a gaming mouse than an ordinary computer mouse can make a huge difference in your gaming experience.
Due to its additional features of controlling sensitivity, response rate, acceleration, etc, can uplift your gameplay capability. And when you've made your route towards a successful gaming career, choosing the best mouse gaming mouse is a must for you. If you are a normal user then the best mouse under 500 would be perfect for you.
Plus, keeping budget in mind, we have listed seven best gaming mouse under ₹1000, so that you don't have to go for an expensive product with similar functionality which you're getting under budget range.
So, now it's time to explore and review the top seven best gaming mouse under ₹1000 that can make you win the battle in your next gameplay.
List Of Best Gaming Mouse Under Rs 1000
| Sr. No. | Best Gaming Mouse Under Rs 1000 | Buy Now |
| --- | --- | --- |
| 1. | MFTEK Tag 3 Wired Gaming Mouse | Buy Now |
| 2. | Redragon Centrophorus M601 | Buy Now |
| 3. | ABOTEK Warhammer GX950 | Buy Now |
| 4. | Logitech G90 | Buy Now |
| 5. | Redgear X12 Pro | Buy Now |
| 6. | Zebronics Alien Pro Premium | Buy Now |
| 7. | Dragonwar ELE-G9 Thor | Buy Now |
7 Best Gaming Mouse Under ₹1000
1. MFTEK Tag 3 Wired Gaming Mouse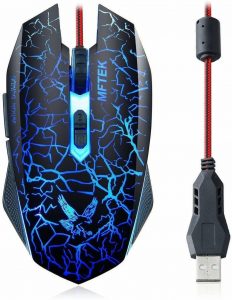 MFTEK Tag 3 is an awesome gaming mouse for beginners, who just started their gaming career. It's a wired mouse that has seven customizable buttons which used for different functionality during the gameplay.
It has a dpi key of 800/1200/1600/2000, and each dpi has its colors, so if you set the mouse to 1600 dpi, change to a blue color which makes it attractive.
It also has some additional features like anti-slip and anti-sweat texture that keep the comfortability when you're on gaming for hours. If you're okay with upto 2000 dpi sensitivity, MFTEK welcomes you.
*Highlights –
7 programmable buttons
4 different led colors
Anti-slip and anti-sweat texture for enhanced grip and comfort
Smooth clicks with great design
2. Redragon Centrophorus M601 Wired Optical Gaming Mouse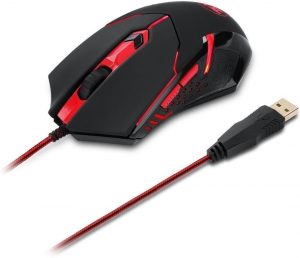 Its a superb optical gaming mouse from the redragon brand having numerous functionality that aims to raise the gaming performance. Redragon Centrophorus M601 gaming mouse has upto 3200 dpi sensor where the gamer can adjust as 800/1600/2400/3200 according to his/her taste.
It has 5 programmable buttons along with 5 different game profiles, so you can assign your game settings to each profile easily. Moving towards the weight of gaming mouse, here you get the access to tune the weight with 8-piece weight tuning set so that you can lower the weight of the optical gaming mouse. In competitive gaming, such a gaming mouse can be a reason for winning.
*Highlights –
3200 dpi sensor with 4 adjustments
5 buttons that can be assigned to different functions
8 weight tuning sets
Stylish look with sand rubber skin surface coating
3. ABOTEK Warhammer GX950 Wired Optical Gaming Mouse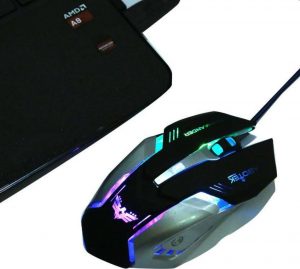 Abotek Warhammer gx950 is another cool gaming optical mouse suitable for a noob to pro gamers. With a high dpi resolution of 5400, this gaming mouse changes the gameplay entirely.
Having additional buttons of forward and back makes it easier to navigate between the regular mouse buttons. It doesn't require any software/driver to run it which defines that it's too easy to setup & use. The Ergonomic design and metal backplate make it more durable.
*Highlights –
Plug & play with no requirement of any software/driver
Metal backplate for durability
Forward key and back key
DPI – 1000/1600/3200/5400
4. Logitech G90 Wired Optical Gaming Mouse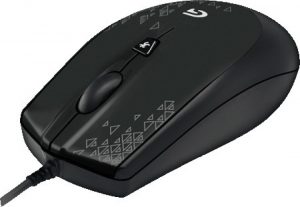 From normal to a gaming mouse, Logitech always amazes us with its top quality products. In terms of a gaming mouse, Logitech's G90 optical mouse is one of them.
Though it has low dpi resolution upto 2500, the delta zero sensor make it unique which is designed for high-accuracy control. Its 2-millisecond report rate enhances the performance to 4x than an ordinary mouse. Along with performance, its black charcoal look make the optical mouse more attractive.
*Highlights –
2-millisecond report rate
250 – 2500 dpi sensor
Comfortable ambidextrous shape
Delta Zero sensor technology
5. Redgear X12 Pro Wired Optical Gaming Mouse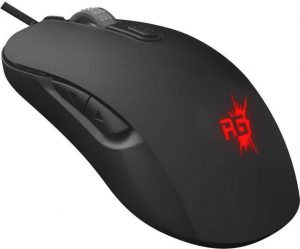 Redgear X12 Pro is an optical gaming mouse that offers a fully customizable RGB customization. With colorful LEDs, it also allows the user to assign functions to the 6 programmable buttons and 5 game profiles.
It also has an instant switching between the dpi from 200 – 4000. And, having amazing features in a budget range makes the Redgear x12 pro, an awesome gaming mouse.
*Highlights –
Durable enough for 10 million clicks
Dpi resolution between 200 to 4000
Pooling rate of 1000 Hz
6 programmable buttons
6. Zebronics Alien Pro Premium Wired Optical Mouse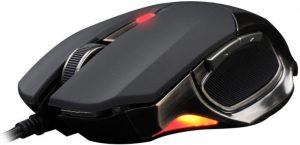 Alien pro is an ultimate budget gaming mouse from the zebronics brand. It is a high precision mouse with 2400 DPI resolution which is adjustable within the mouse settings. It is designed ergonomically which makes the user experience more comfortable.
Along with left, right, and scroller, it also has another 4 programmable buttons for customizing different game settings. If you're on a tight budget but also demands some cool features, go for zebronics alien pro optical mouse.
*Highlights –
Durable braided cable
2400 dpi precision
High polling rate
High-grade gaming sensor
7. Dragonwar ELE-G9 Thor Wired Gaming Mouse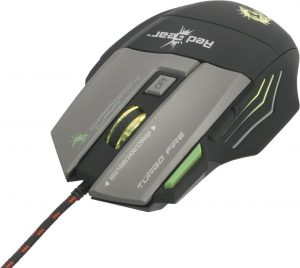 The one thing that makes Dragonwar ELE-G9 Thor gaming mouse different from others, is that along with mouse you also get a mouse pad for a better sensitivity throughout your gaming. It has 7 control buttons and custom profiles.
Dpi sensor from 800 – 3200, so that you can aim your target without any wrong action. It is a lightweight gaming mouse that turns out your gaming performance to another level.
*Highlights –
8 programmable buttons
4 dpi settings upto 3200
Compatible with windows
Frequently Asked Questions
Q. Should I Choose Laser Mouse Over Optical Mouse For Gaming?
A. Laser-based mice have high sensitivity, while optical mice have low sensitivity. Now both are good options to go with depending upon your gaming. The optical mouse would be good for you when you're on a budget and you can choose anyone from the above best gaming mouse list.
Q. What's The Minimum DPI Should Be In Gaming Mouse?
A. Well, the gameplay demands the amount of dpi but if you're into competitive gaming then having a mouse with at least 1000-2000 dpi resolution would be okay.
Q. How Many Programmable Buttons Are Enough For Gaming?
A. It depends on the game you're playing, but if we talk generally, then at least 2-4 programmable buttons (except the left, right & scroller) in a gaming mouse would be a good choice
Final Words
India's gaming community has grown tremendously since the launch of jio. You may see a lot of new faces in youtube gaming too. Games like pubg, free fire, etc, are still in action and daily a lot of users are adding their names in the gaming hub.
And if you're such a guy/girl who is serious about gaming, then it would be worth investing in controllers like a mouse. Plus, while stepping in, it's not a good move to invest a huge amount in a gaming mouse, you still have a lot of better options even if you have a budget upto ₹1000.
I hope this best budget gaming mouse guide has helped you to pick your favorite one. Share your thoughts regarding the best gaming mouse under ₹1000.