Best Home Theatre Systems In India
Do you know any person who doesn't love music? I never found such and I guess you didn't get either. Because music plays an important role in our daily lifestyle and life seems hard without it.
And to boost up this music craze to another, most of us plan to get a home theatre system. Many of you might have familiar with what a home theatre does, and why everyone enjoys having it in their room. It simply creates a cinematic sound experience within the room and provides a real adventure to watch.
Home theatre with surround sound technology primarily used in TV, PC, gaming console, etc to feel the touch of each sound, dialogues, and background music.
But, when it comes to purchasing a home theatre system, we should identify which one is suitable for us, why we need it, and which one is the best home theatre system available in India right now at any budget range.
If you're excited to know about the best home theatre systems and the buying guide to purchase them and stay with this article until the end. We have compiled the top list to buy the best home theatre according to their specifications, features, and brand. So, let us meet the best home theatre system available in India.
Must Read: 7 Best Mouse Under 500 in India 2020 with Wired USB
Top 7 Best Home Theatre System In India
1. Sony BDV-N9200W 5.1 Channel Home Theatre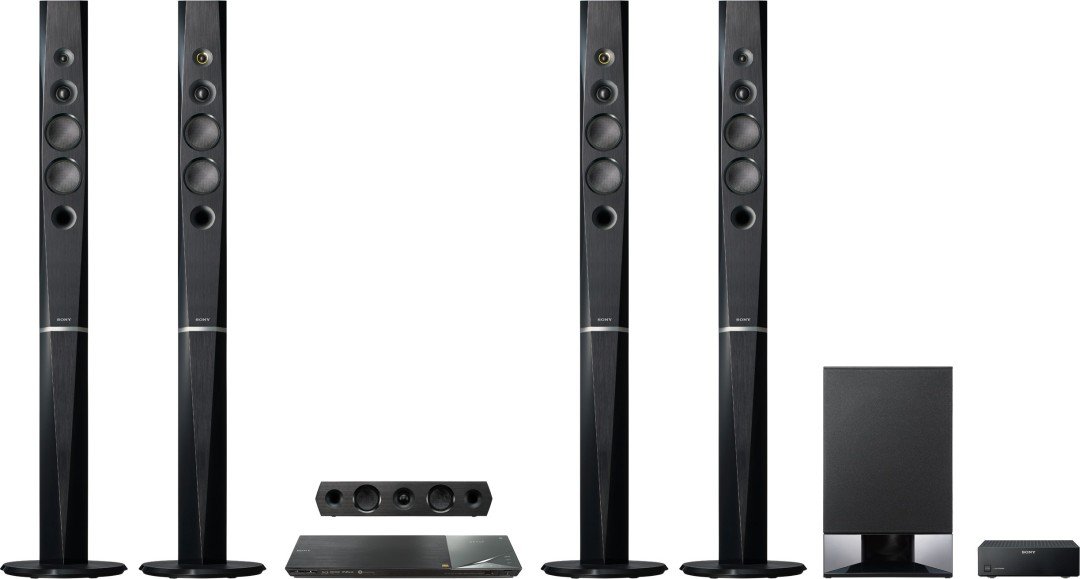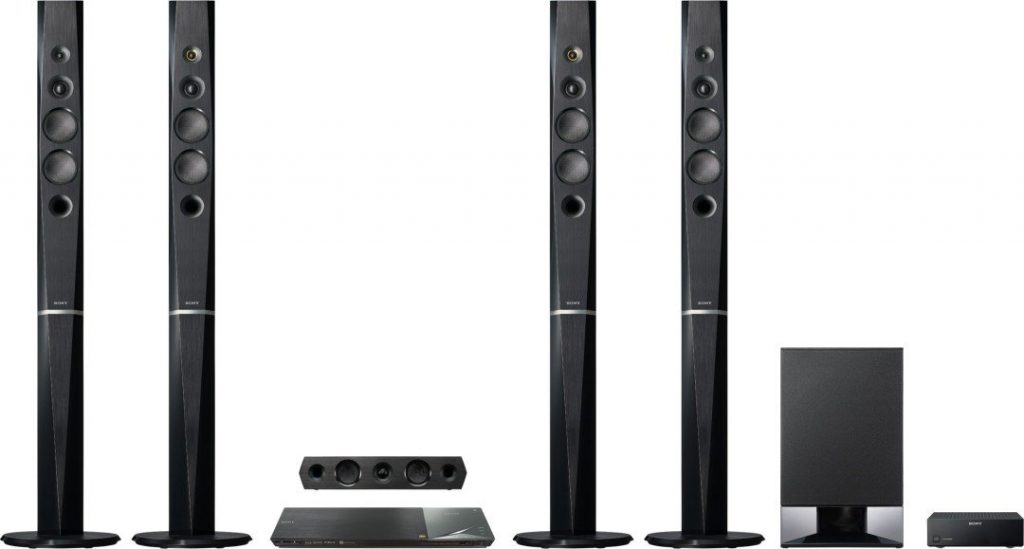 Sony is that brand that is known for its audio devices, and here the first best home theatre system in the list tops with sony's brand. The Sony BDV-N9200W s a premium home theatre system that is loaded with every feature that you need in an audio system.
Starting with the audio features, the audio output is 5.1 surround sound at 1200 W, which means you're not going to miss any audio note while watching any movie.
The sound system comes with Blu-Ray player that you connect it with your wifi or Bluetooth to play movies, videos, and even CDs and DVDs. As its a 5.1 channel home theatre, so in the package, you get 5 tall speakers, and a subwoofer to feel the bass and punch.
The sound output is full of clarity and sweetness and gives you a cinematic experience directly in your home. In terms of pricing, it costs more than 50k and if you want a piece of quality, you can go for it.
*Features –
Surround Sound Systems with lighting effect
High-resolution Audio Capability
Digital Music Arena Mode
Virtual Football Mode
Bluetooth + NFC + USB (multi format playability) +3D Blu-ray playback
2. Yamaha YHT-3072-IN 5.1 Home Theatre System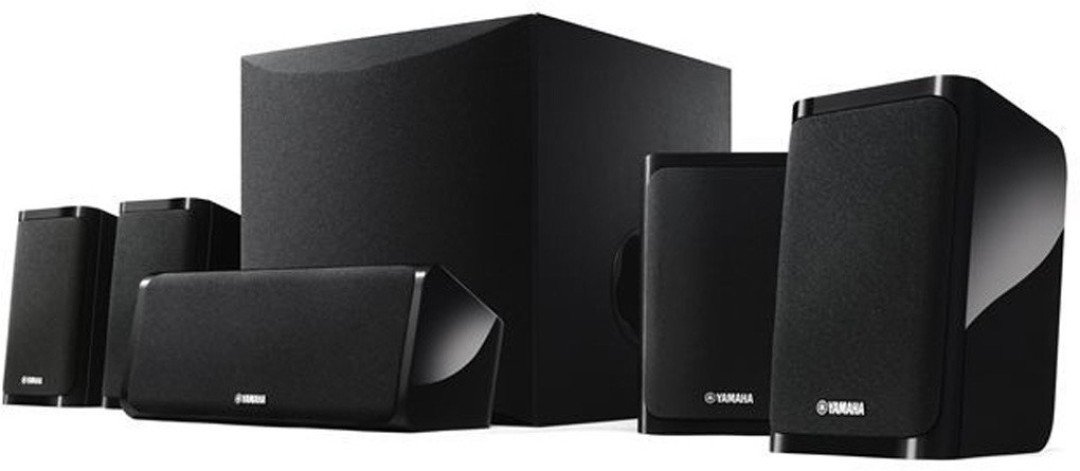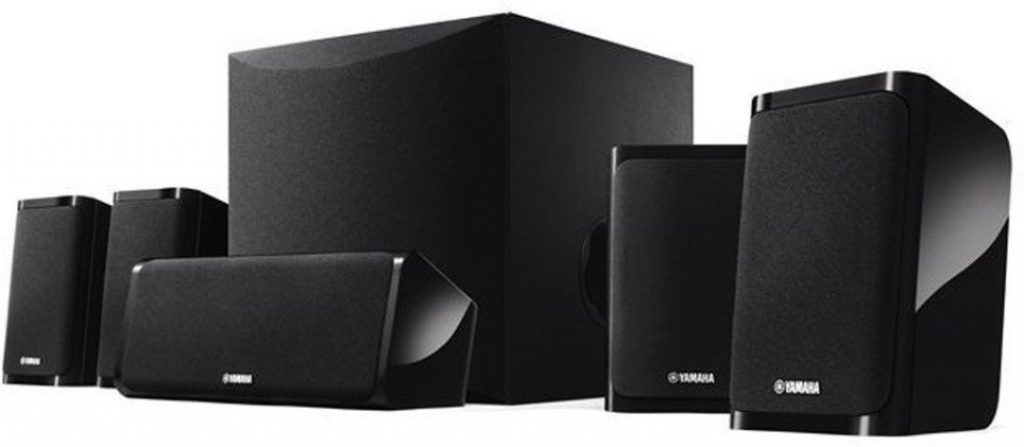 Because of music, Yamaha never steps back and always takes care of with their quality products. And here we introduce you with the Yamaha YHT-3072-IN 5.1 home theatre system.
The home theatre from Yamaha allocates Yamaha Cinema DSP technology that supports playback of HD Audio like Dolby TrueHD, DTS-HD, etc. The AV receiver comes within the audio system, supports 4k videos, HDR including Dolby Vision and Hybrid Log-Gamma for color adjustment.
It has a unique feature called YPAO (Yamaha Parametric room Acoustic Optimizer) which automatically adjusts the audio configuration according to the room nature. The audio output is 5.1 channels with surround sound technology.
As per the quality sound quality, it ranks with full marks due to crystal clear sound and rich deep bass. The price of this Yamaha home theatre system costs under 50k, and to get such sound quality it's worth investing in it.
*Features –
4K Ultra HD HDMI Support
Yamaha CINEMA DSP technology
Yamaha Parametric room Acoustic Optimizer
Advanced YST II for Awesome Deep Bass
Bluetooth for streaming all your favorite music and podcasts
3. F&D F6000U 5.1 Multimedia Speakers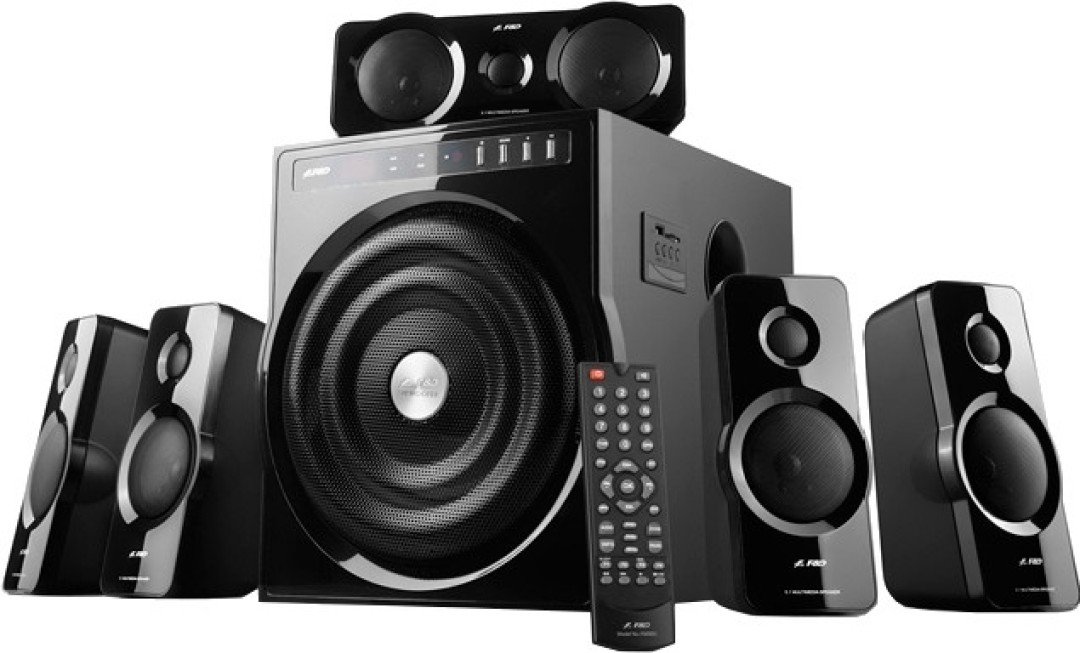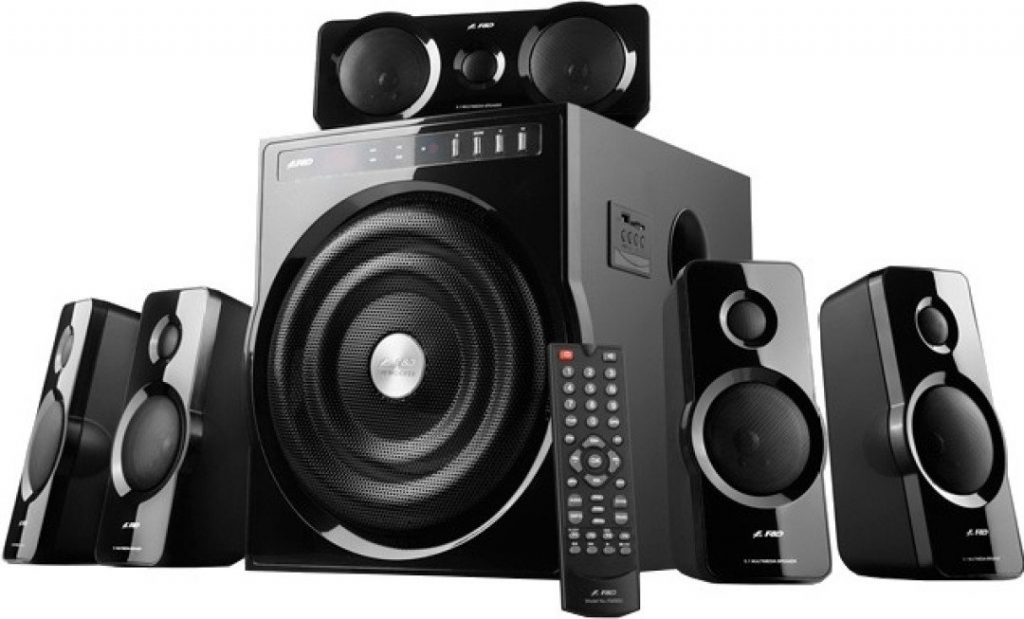 F&D is a notable loudspeaker manufacturer in the current period, the brand known for its budget home theatres. And F&D F6000U is one of those home theatres that fit for you if your budget is around 10k and you wanna experience a good sound quality.
The audio device is 5.1 channel multimedia speakers of 6500 W PMPO.
Its automatic voltage regulator moderates the voltage to avoid electrical surges.
It has a USB port and sd reader to play your favorite songs at the right moment.
And in case you have a mood to play FM radio, these f&d speakers fulfill your wish.
These basic home theatres are a good choice for you if you mostly listen to songs rather than watching tv.
*Features –
High glossy surface.
LED indicator and LED display
Sheer audio power: 6500W PMPO.
3-inch full-range driver for satellites
Big on the bass driver for subwoofer
4. Philips Heartbeat SPA-3800B 5.1 Channel Home Theatre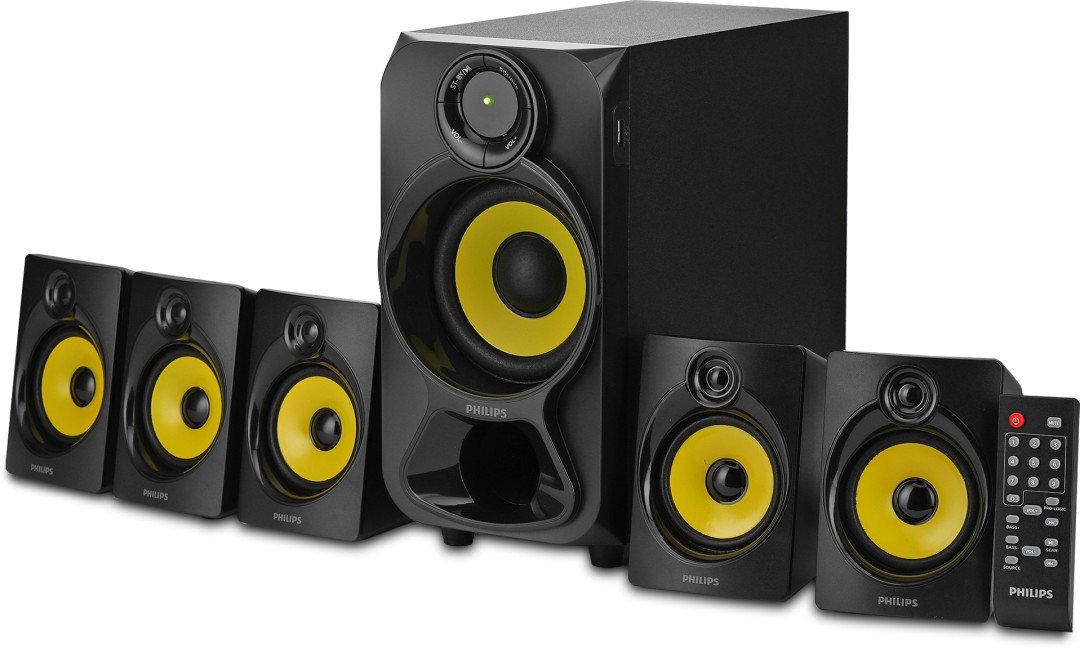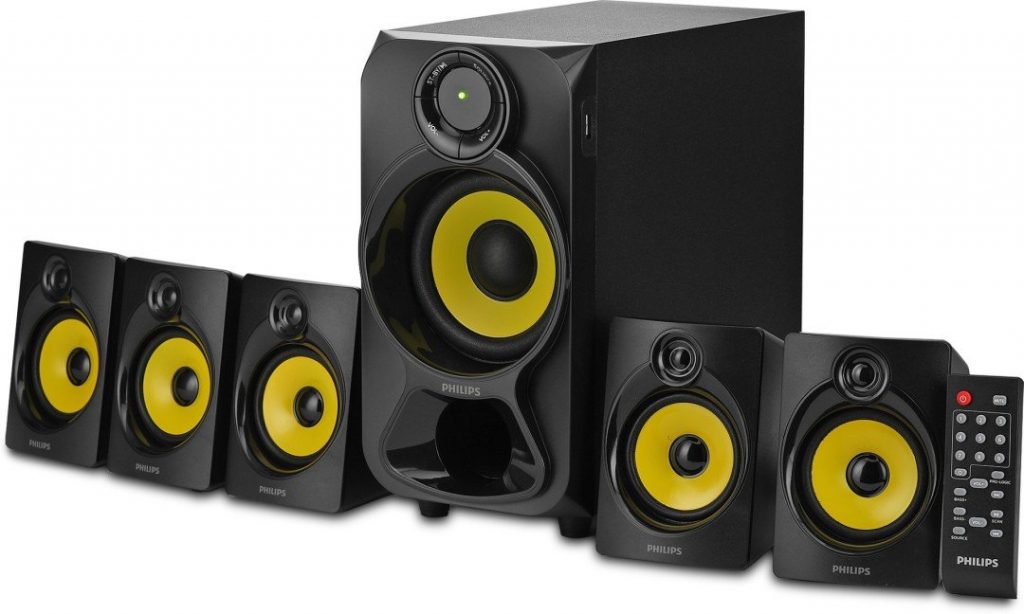 Heartbeat SPA-3800B is the best budget range 5.1 home theatre system comes from Philips brand. The compact design of the home theatre makes it easy to carry wherever you want to.
The audio output power of the audio system is 28 W with 5.1 channel, that means you get 5 speakers and one subwoofer to sense the deep bass. It has inbuilt FM radio, USB port, sd card reader, and Bluetooth connectivity which can be used to play music, movies directly from your smartphone/tablet.
Also, have surround sound technology to experience atmospheric sound. If your budget is something near 5k, this is absolutely the best choice to go with.
*Features –
Output: 5.1 channel; 3000 watts
Bluetooth, aux, USB and FM playback and also plays from either DVD, TV or mobile devices
Bass-reflex design with a 5-inch woofer and 3-inch full-range speakers
5. Yamaha YHT-1840 4K Ultra HD 5.1-Channel Home Theater System with Dolby and DTS


YHT-1840 is another premium quality of the home theatre system from Yamaha. To enjoy the movie theatre adventure within the home, grab a set of Yamaha YHT-1840 home theatre.
Because the audio system is loaded with a variety of sound technology and features that enhance your overall movie mood. This is 5.1 channel home theatre with Dolby & DTS surround sound technology that makes your window rattled.
The AV receiver delivers the dynamic soundtracks of each sound stem in all the speakers and completely supports the HDMI standards and 4k videos.
With the Yamaha's extra bass, it boosts up the low frequencies to deliver a rich deep bass in the subwoofer. Again, this is the best home theatre from Yamaha, if the features and price range doesn't stress you, then make a purchase.
*Features –
Dynamic Surround System
4K Ultra HD Full Support
Virtual CINEMA FRONT
Traditional Design
Extra Bass
6. Logitech Z906 5.1 Channel Home Theatre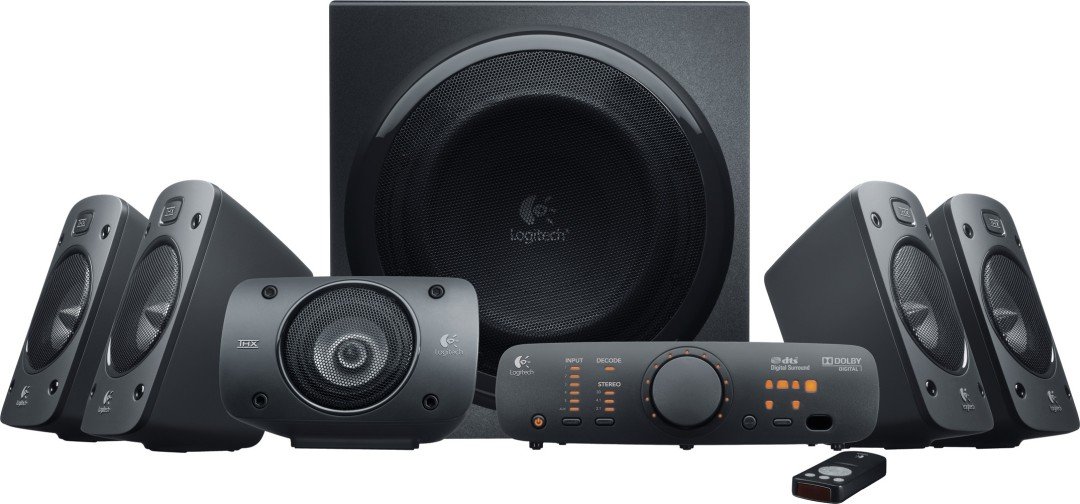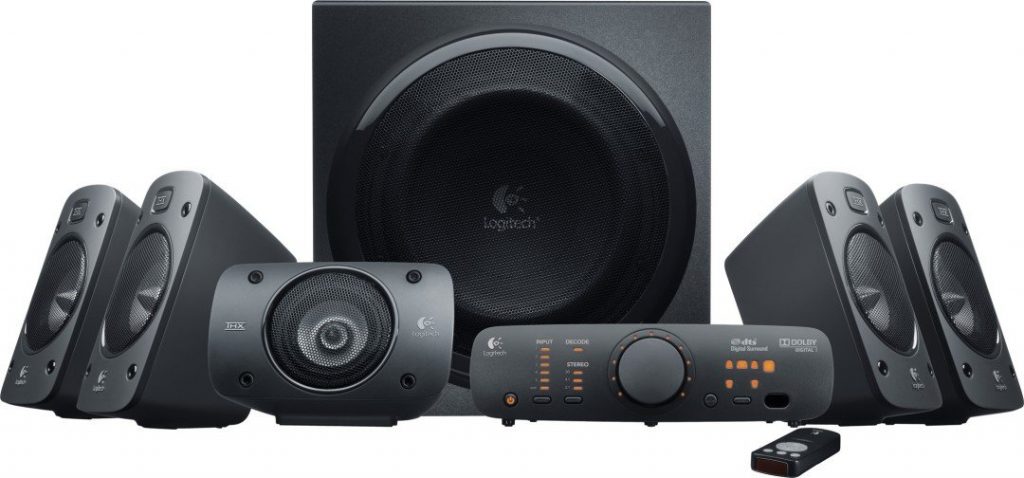 Now its time to introduce the home theatre system from our favorite brand i.e, Logitech. The Logitech Z906 5.1 channel home theatres come with surround sound technology like Dolby & DTS to make you feel more cinematic.
It has a 100-watt peak power to deliver each sound perfectly with crystal clear high end and deep bass. It can connect with your computer, tv, gaming console, and every that device that have HDMI port.
The sound system also has a Blu-ray player to let you enjoy your favorite movies, videos, and DVDs with all picture adjustments. It costs near 25k price and getting surround sound technology with such features is worth to invest in it.
*Features –
Powerful 1000 watts peak power
THX Certified theater-quality audio
5.1 Dolby digital surround sound
Inputs for multiple audio sources – computer, TV, game console and more
7. Sony HT-IV300 Home Theatre System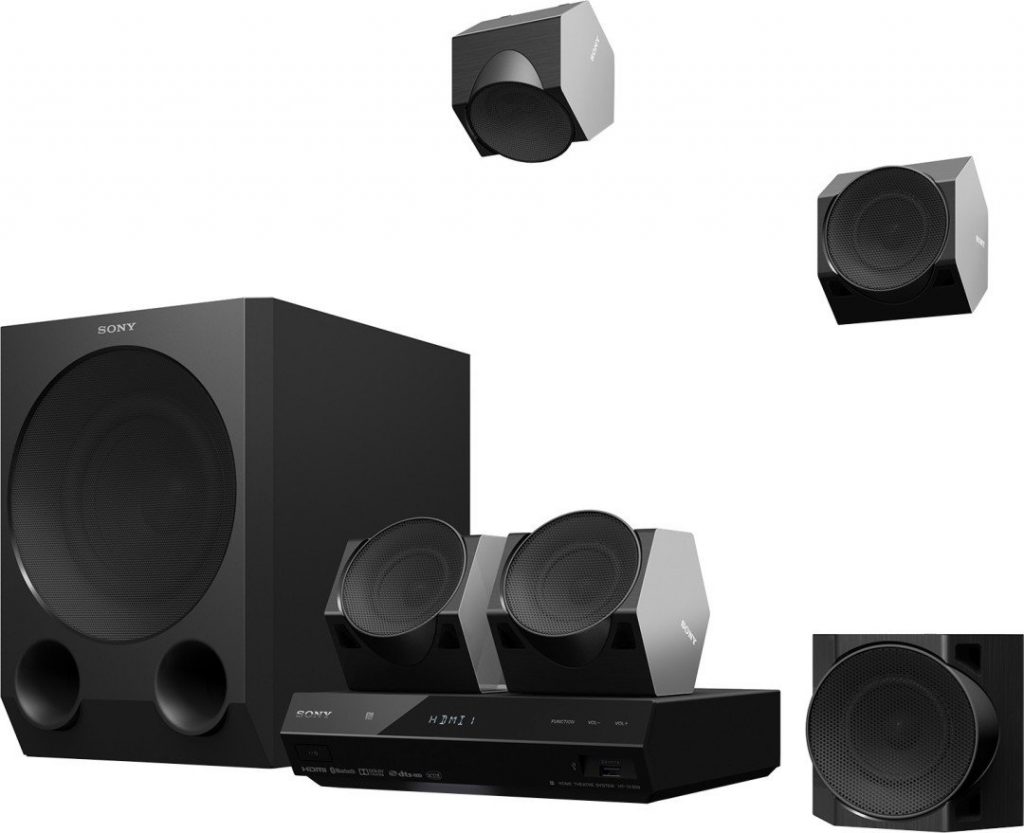 Sony HT-IV300 is a compact designed 5.1 home theatre system in a budget segment. The look of the audio device itself speaks about its sound quality and performance. It includes 5 speakers, 1 receiver, remote control, and 1 subwoofer with cinematic surround sound technology.
It has an output power of 1000 watts RMS that is enough to turn your home in a mini theatre. You can wirelessly stream your favorite music tracks with the Bluetooth and NFC connectivity. The Yamaha home theatre system can directly connect with your DTH set-top box, PlayStation, pc, tv with the HDMI cable.
To feel the stadium sound, this home theatre enables you to do that with their Football mode. The a/v receiver supports 4k videos, Blu-rays movies so that you can enjoy the cinematic sound without any video interruption.
*Features –
1000 WattsRMS output power
NFC & Bluetooth connectivity
USB- Multi-format playability and 5.1 channel surround sound Home Theatre System
Supports DTH set-top Box & Blu-ray player
Also Read: 5 Best Fitness Apps For Android That Will Make You Fit
Home Theatre System Buying Guide
You've known about the current best home theatre system in India, but what if you're not into that budget range and wanna purchase a home theatre according to your needs and those which meet your criteria.
Getting a home theatre system is quite tricky, as there are many components in it like a/v receivers, subwoofers, amplifiers, etc. and these terms often seem confusing for any of us. So, keeping things easy, we are going to give you a basic idea to purchase home theatres.
In case you wish to buy a home theatre by yourself then you should consider the following points one by one, it will help you to determine which home theatre system you should buy. So, let's get into it…
Room Space
The first thing you should ask yourself that – do I have a dedicated room for the installation of home theatre? if the response is positive then you should consider investing in a home theatre.
As you won't get that atmosphere of sound without having enough space and in case you should look into soundbars rather than in-home theatres.
Okay, so you've got a dedicated room for the home theatre system, but again how many speakers (or channel) you would need in a home theatre. A 5.1 home theatre means having 5 speakers (including left, right, center, rear left, and right) and one subwoofer. So, does that fit in your room? and does that fit in your budget as well? think about it and take a step further.
Compatibility
Home theatre systems are useless if they are not compatible with your tv. Whatever television you've, check out whether it has connectivity options or not.
If you've smart tv then there is no need to worry about getting home theatres. Because after all, you're going to experience the home theater with your tv along with your family, so dig deep in the connectivity options and then go into it.
Receivers
In a basic language, receivers are used to decode audio/video signals and are the source where everything is connected. There are few things that you should look up in the home theatres like do they have enough HDMI input ports?
Having 2-3 HDMI ports will enable your home theatre to connect with different devices. Moreover, do they support 7.1 channels, meaning can you connect up to 7 speakers or more than this.
In case if you wanna expand your home theatre to the next stage, your home theatre receiver should have that option to feed more speakers and subwoofers.
Surround Sound Technology
Does your home theatre have to surround sound technology like Dolby Atmos? now before answering this you should know what this sound technology does. As the word 'surround' speaks itself, i.e, having this technology will give 3d sound experience that will enhance your overall music/movie experience.
Suppose you're watching a movie with 5.1 Dolby digital audio, and your home theatre is made up of 2.0 channels (which is known as stereo) then you won't get the audio of each channel in your home theatre. So, to observe a realistic sound, think about surround sound technology.
Wired or Wireless Home Theatres
In a traditional home theatre system, you will need to install it in your room from front to end. And the wires will be surrounded in walls, floors, whereas wireless home theatres liberate you from these wires and help you to set up it very easily as compared to wired.
Moreover, in the wired home theatre system, you have to stick with the components in the same position while in wireless you can change the position of your tv and speakers easily.
Well, in this case, you can also consider buying soundbars which are quite similar in giving better sound experience like home theatres but that's another whole topic that we will discuss in some other home theatre guide.
Wattage
A high power home theatre will sound louder even at lower volumes because of the higher watts per channel. There is no exact formula about how accurately you should look at the watts per channel when buying a home theatre system.
Every brand manufactures the audio system with the minimum wattage required for the speakers. And if that matters a lot to you then can manually analyze the home theatre system which you're gonna buy.
Price
Well, I don't need to explain this point entirely. Because it's up to you, you should first find out the purpose of buying a home theatre system according to the above six points and when every point matches your budget then simply dive in and get that product without any concern.
Also Read: Best Earphones Under Rs.500 in India 2020
Conclusion
So this article was regarding the best home theatre system in India and how you should buy any home theatre. It isn't a sudden process to get any random brand's home theatre system just because you're getting a bunch of features.
Installing a home theater system in your room is a long task and you're going to use them for at least 1-2 years. So, make a wise decision before falling in the trap with unknown brands.
Go with the above-mentioned brands or any trusted one, and comment below if you have any thoughts towards home theatre systems.