Best Keyboard Under 500 In India
Without having a keyboard, you may not be able to operate your computer properly. Just as a computer mouse is needed, so also a keyboard.
Either you're into a typing job or working from home, you must have a keyboard that is durable enough and gives you a better comfortability while working for hours.
And when it comes to choosing a keyboard for our day to day work, most of us get confused to select one such keyboard which is compact, portable, have good build quality, and also budget-friendly.
Since there are a lot of brands offering a wide variety of computer keyboards in the budget range, one cannot decide which keyboard is suitable for him/her. And as per our research and experience, we've made a top list of best keyboards under ₹500 which are fine and offer basic functionalities.
Must Watch: 7 Best Mouse Under 500 in India 2020 with Wired USB
Here Is The List Of 7 Best Keyboard Under ₹500 In India
| Sr. No. | 7 Best Keyboard Under Rs. 700 | Buy Now |
| --- | --- | --- |
| 1. | Dell KB212 Business Wired Keyboard | Buy Now |
| 2. | HP 100 Wired USB Keyboard | Buy Now |
| 3. | Zebronics Judwaa 543 Wired Keyboard | Buy Now |
| 4. | Logitech K120 Wired Business Keyboard | Buy Now |
| 5. | Zebronics Zeb KM2100 Multimedia Keyboard | Buy Now |
| 6. | Quantum QHM 7406 Wired USB Keyboard | Buy Now |
| 7. | Intex Jumbo USB Keyboard | Buy Now |
7 Best Keyboards Under ₹500 In India – Buyer's Guide & Review
1. Dell KB212 Business Wired Keyboard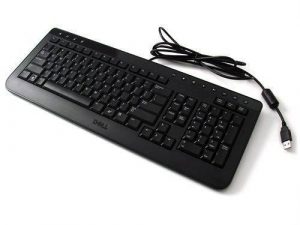 Under the budget of ₹500, dell's KB212 business wired keyboard tops the position on our list. It has six rubber pads that avoid sliding while typing. The ergonomic design makes more comfortability and also has an adjustable tilt feature so that you can change the position as per your feel.
In terms of look, it's an ordinary keyboard with a simple design. If you're more focused on typing and normal pc usage, this keyboard should be your first choice.
*Highlights –
6 stable rubber pads
The quiet and good tactile feel
Ergonomic and adjustable tilt
2. HP 100 Wired USB Keyboard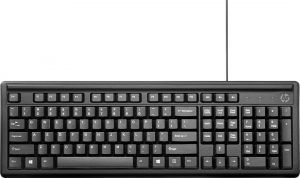 From the HP brand, you get the HP 100 wired USB keyboard which is mainly designed for comfort and smooth typing experience. Just like a regular keyboard it also has a full range of 109 keys, including 12 working function keys and 3 hotkeys.
Easy to set up via USB cable with no requirement of drivers and software. If you want a computer keyboard that lasts long and provides comfort, go for it.
*Highlights –
Designed for comfort
Easy to setup
Compatible with any os
3. Zebronics Judwaa 543 Wired Keyboard

Zebronics Judwaa 543 is a combo of keyboard and mouse, as the word 'judwaa' suggests itself. The reason that we listed the combo offer because the keyboard has all the basic functionalities and along with it, you're also getting a 1000 dpi precision mouse, which is a quite good offer in the budget of ₹500. If you're looking for both keyboard and mouse, this combo offer would be best for you.
*Highlights –
UV coated keys
Plug & play feature
Compatible with windows, mac
4. Logitech K120 Wired Business Keyboard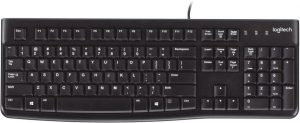 Logitech k120 wired keyboard is popular due to its smooth and quiet typing performance. Despite being a little expensive, it covers all the functionality that a computer keyboard should have.
The slim design of the keyboard and compact profile makes it easy to consume a little space on the desk. It is durable enough that can handle upto 10 million keystrokes. Also, have adjustable tilt legs that extend up the keyboard for better typing and wrist rest.
*Highlights –
Low-profile keys for noise-free experience
Durable, spill-resistant design and sturdy adjustable tilt legs
Simple wired USB connection
5. Zebronics Zeb KM2100 Multimedia Keyboard

Zebronics Zeb KM2100 is a wired USB keyboard which comes with 12 multimedia keys to make the workflow easier. It has UV coated keys that prevent the symbols and white letters from fading.
It is one of the cheapest multimedia keyboards from the zebronics brand that has some extra features than a regular keyboard. Consider buying it if you have a low budget.
*Highlights –
12 Dedicated Multimedia keys
Comfortable and silent
UV coated keys
6. Quantum QHM 7406 Wired USB Keyboard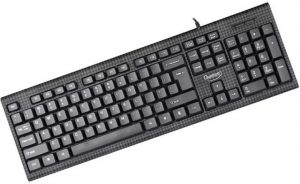 QHM 7406 is the cheapest wired USB keyboard suitable for normal pc use. It is a lightweight keyboard with soft key pressure. The black texture design with a matte finish makes it more attractive.
The keyboard has three additional functions keys of sleep, wake up and power which is quite useful for the user. It is simple to set up and compatible with any operating system.
*Highlights –
Enough durability of 10 Million times keystrokes
3 extra function keys
Special rupee key
Easy to setup
7. Intex Jumbo USB Keyboard

An Intex brand jumbo wired USB keyboard is perfect for typing and normal computing under budget range. The keys are soft and sensitive which doesn't make the sound too much. It has a stylish design with blue color touch at navigation keys.
Supports every os like windows, mac, android. Those who love to have a computer keyboard that looks fashionable can go for the Intex jumbo USB wired keyboard.
Frequently Asked Questions
Q. Should I choose a gaming keyboard over a standard keyboard?
A. Gaming keyboards are mainly focused on gaming only, and if you're that kind of person who doesn't play games on your computer, then purchasing a gaming keyboard isn't the right choice for you.
Q. Is it good to buy a multimedia keys keyboard than a normal one?
A. Multimedia keys are useful for power management, playing music, and other quick-access features, if that works for you to do these tasks quickly then you should take a look at buying a multimedia keyboard.
Q. Is it worth to invest more in a keyboard for a normal keyboard?
A. Note down your work and navigate the features in the keyboard, if the requirements do fit in the budget-friendly keyboard that you're looking for, then there is no need to spend your hard-earned money in those keyboards which have extra features but are useless for you.
You may also like-
Final Thoughts
In the budget range, there are countless computer keyboards from different brands and it's like a challenge for us to select one keyboard which has good build quality, enough functions, decent durability, and softness in keys.
You should choose wisely the best keyboard when it comes to operating your daily tasks, now whether you're into coding or content writing, having a compact and portable keyboard is a must.
And I guess the above guide of best keyboards under ₹500 has helped you to decide your next keyboard, let us know your thoughts and suggestions via the comments section.