After digitalization in India, monetary transactions have become more safe, secure, and reliable. We all are aware of our traditional banks. Here we have to stand in long queues to deposit or withdraw money and moreover for the transaction history on our passbook. For me going to the bank is a really very big and hard task. You all must have heard about the online payment banks. These were launched a few years back and trust me they are the most convenient way of banking. So, today in this article I will be giving you information about payment banks, their features, benefits, and active payments banks in India in 2020. Be with me until the end of this article to know more details.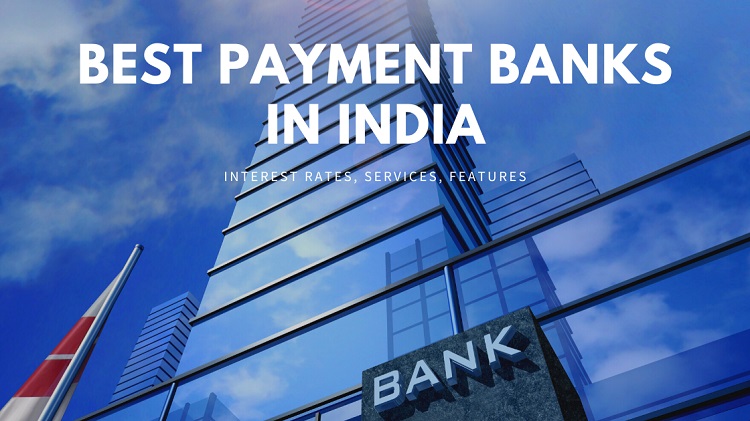 Must Read: Paytm First Citi Bank Credit Card Unbiased Review
What Is A Payment Bank?
A payments bank is an addition to the digitalization concept. These were introduced for easy online access to banking services to the customers. It works the same as regular banks with some restrictions. Payments banks also operate under the Reserve Bank Of India (RBI). The word Payment banks are essential and differentiate it from the regular banks. It was in the year 2015, that the RBI gave in-principal approvals to 11 companies to start Payments Bank, under which the companies got 18 months timeline to start the banks.
If the companies submit all the details and establish payments banks in the given time, RBI would give them a license to work as a bank. These Payments Bank are not allowed all the functionalities of a bank, there are some restrictions. They are allowed with some major services, which we will discuss further. As we discussed that initially, a total of 11 companies have got there in principal approvals, so let's know who were those companies:
Aditya Birla Nuvo limited- Idea cellular network
Department of post- India Post
Reliance Industries- Reliance industries limited and State Bank of India
Tech Mahindra Limited
Airtel M Commerce Services Limited
Fino pay tech services
Dilip Shantilala Shanghvi- Sun Pharma
National Securities Depository Limited- NSDL
Vodafone m-pesa Limited
Vijay Sekhar Sharma- PayTm
Cholamandalam Distribution Services Limited
Out of these 11 companies, only 6 are active today, which we will discuss later in detail.
The main purpose of these Payments Bank to support the unorganized sector of the country. The unorganized sector is provided with all the financial services. The main focus is on small firms, businesses, etc. to increase the migrant labor workflow and supporting their households.
Services offered by Payments Bank
The following are the services that a Payments Bank can provide to its customers:
The very first service is that Payments banks are allowed to accept a deposit amount of Rs. 1 lakh per customer.
Customers can also make easy withdrawals from these Payments Bank.
The payments bank will give interest on your deposited money according to the interest rates set by RBI.
Payments banks offer savings as well as current accounts.
Debit cards are also issued by payments banks as normal regular banks.
Internet banking is also there including NEFT, RTGS, IMPS transfers.
Mobile banking and ATM transfers are also permitted.
One can use mobile apps of these payment banks to pay utility bills and do other recharges.
Payments banks do provide financial services like mutual funds, insurance services, Forex services, pension services, etc.
Services not allowed to payments bank
We have already discussed the services that a Payments Bank can provide to its customers as per RBI norms and regulations. Now let us see what are the services that a Payments Bank can not provide:
Payments banks can not issue credit cards to their customers.
Payments banks can not set up any branch for non-banking financial services.
Deposits from Non-Resident Indians are not accepted by Payments Bank as per RBI guidelines.
Personal or other loans can not be issued by such banks to their customers.
Active Payments Bank in India
As discussed earlier, there was a total of 11 companies who got the in principal approvals for opening Payments Bank in India in the year 2015. But now we have only 6 active Payments Bank in India. Take a look at the list of active payments bank in India as per RBI:
Airtel Payments Bank
NSDL Payments Bank
India Post Payments Bank
Jio Payments Bank
Fino Payments Bank
PayTm Payments Bank
Now I will explain to you in detail about all these active payments banks in India with their salient features.
1. Airtel Payments Bank
Airtel Payments Bank is a product of Bharti Airtel who is licensed by RBI.
It has collaborated with Kotak Mahindra Bank.
You can download the My Airtel app to enjoy all the features.
You can easily do your recharges and pay your utility bills through the My Airtel app.
UPI money transfer allows you to send and receive money.
Here, you will get a digital wallet in the form of Airtel Money.
Airtel Payments Bank allows Adhaar enabled transactions.
It also provides an insurance plan under Pradhan Mantri Jeevan Jyoti Bima and the pension plan which includes the Atal pension Yojna.
Visit Website: https://www.airtel.in/bank/
2. NSDL Payments Bank
NSDL Payments Bank started its operation in the year 2018.
It is owned by the Central depository of India.
You can use all the services of NSDL Payments Bank through the NSDL Jiffy app.
You can easily open your NSDL Jiffy savings or current account within few minutes.
It has a Domestic Money Transfer feature which allows you to transfer migrant, unbanked people in India.
You can directly invest in mutual funds through the Jiffy app.
You can make NEFT and IMPS transfers.
Corporate internet banking features allow you to connect to banking services 24*7.
NSDL offers debit cards to its customers.
Pay your bills through the app.
Business correspondence centers are available in almost every city.
Visit Website: https://nsdlbank.com/
3. India Post Payments Bank
India Post Payments Bank is solely owned by the department of post.
It has been linked with more than 17crore Postal Savings Bank.
Here you can open your savings as well as a current account.
Customers can deposit up to Rs. 1 lakh.
One can easily pay their utility bills.
UPI money transactions are also there. You can use the QR scan method for easy and quick payments.
The real-time gross settlement helps in releasing the finances without any trouble.
NEFT and IMPS money transfers are also available.
Visit Website: https://www.ippbonline.com/
4. Jio Payments Bank
Jio Payments Bank is a joint venture of Reliance Industries and State Bank of India came into service in 2018.
Here you can open your savings account within few minutes and you can use any mobile number irrespective of the telecom operator.
Download the Jio Money app for anywhere access to features like online recharge, bill payments, money transfer, and much more.
Aadhaar enabled account access that can be used anywhere across India. It can access your biometric details.
Money withdrawal can be made at any Jio Payments Bank outlet with your Aadhaar Id.
Visit Website: https://www.jiopaymentsbank.com/
5. Fino Payments Bank
Fino Payments Bank was launched in 2017.
You can the mobile app from here.
Easily open your current or savings account.
Pay your utility bills and recharge your mobile phones or DTH from the app instantly.
Fast and secure mobile banking service.
Transfer your money using NEFT or IMPS.
UPI money transfer is available in instant finds transfers.
Get offers and discounts on online shopping using Fino Payments Bank.
Get your debit card for easy withdrawal.
Insurances services are available on the app and you can also pay your installments through it.
With a sweep account facility, enjoy uninterrupted banking services.
A maximum of 1 lakh can be deposited in this account.
The interest rate is up to 7.25% p.a.
Visit Website: https://www.finobank.com/
6. PayTm Payments Bank
PayTm Payments Bank was started in the year 2017.
You can access it from your PayTm app and registered mobile number.
It will be your savings account.
They do offer a physical debit card, which you need to order from the app and it will be delivered to your doorstep.
You can deposit up to Rs. 1 lakh.
You can do UPI transfers and bank transfers like NEFT, RTGS, or IMPS.
You can also pay at merchants and outlets through the QR scan.
Paytm wallet is going to be your anytime and anywhere wallet on phone.
Pay your utility bills, book flight or train tickets, book hotels, book movie tickets, and recharge your mobile phones and DTH.
Financial services like Demat, Mutual funds, etc. are also available on the app.
Visit Website: https://www.paytmbank.com/home
You may also like-
Conclusion
So this was the list of Payment banks in India. This list has been prepared after referring to the list of RBI. The 6 active payments banks are functional and offer a good interest rate. You can open your account on any of them to enjoy seamless banking services. This innovation has eased our way of banking. We can now do everything on our mobile phones. Still, these payment banks need more upgrades for more convenient and easy banking facilities. They do have some restrictions, but banking on a click makes them really useful. Our bank is in our mobile. Hope you liked the article.