Best Seeds In The Minecraft Game: Are you looking for the best Minecraft seeds? Each update of new Minecraft manages to obtain new motivations to explore the game's unlimited worlds. The new Wild Update was no exception. Its Deep Dark underground biome and Mangrove Swamps merge with the revamped terrain generation. So this is the best time to look for great new seeds in Minecraft.
We've got a feeling that Minecraft is capable of developing. So here we try to show off some of their very best. In this guideline, you can find some of the best Minecraft seeds in 1.19. We try to cover every detail, from mangrove swamps and gorgeous savannas to undercover Deep, Dark Ancient Cities.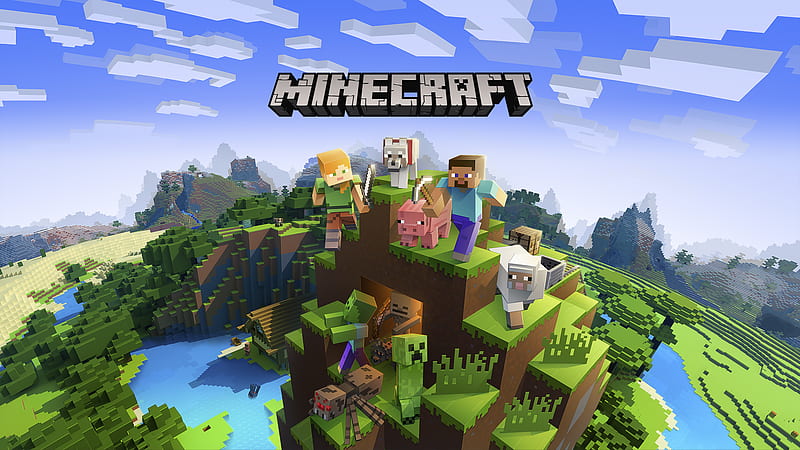 A. What Do Minecraft Seeds Mean?
In Minecraft,

seeds in Minecraft

generate codes for the worlds that Minecraft permits to play in.

Every new world you create has a unique seed that leads to its loots, places, villages, and more.

All seed code is a series of integers representing positive or negative values.

These seeds allow you to carry on the game randomly and on an adaptability basis.

With Some of the custom seeds, you can play into the world with ideas and plans.

Seeds Can assemble all the differences in your gameplay and how your Minecraft expedition develops.
B. How Do You Use Minecraft Seeds?
If you want to create a new Minecraft world using magical seeds in Minecraft, then you need to follow some instructions. Follow the procedure below:
Click on the Singleplayer option on the opening screen of Minecraft.
Next,  a list of the existing world will appear, and here you need to click on Create New World button to develop a new custom world.
Click on More World Option, which pops up on the next screen.
Here you can set your suitable settings and difficulty levels according to your preferences.
At the top, you can see Black Textbox for entering the seed number.
In this box, you must enter the Seed Code (time to give seed code, you need to add a negative sign-in value)for the new world you are trying to explore.
Then click on Create New World.

And you are ready to play.

      
Must Read: Top 7 Apps To Find Identify Songs Quickly!
C.  Best Minecraft Seeds With Their Coordinates | Best Seeds In The Minecraft Game 
1. Round Lake And Exposed Lush Cave:-
Minecraft never offers any round shape in its blocky world.

Seeds are here to generate a round cavity in the forest's centre.

 This crater is a two-floor cavity with a lake at an upper level, and a lower level exposed lush caves.

 Make a secret aesthetic base, these seeds are for you in this game, 

Make sure to create an orb in Minecraft to sustain the unique theme of round craters.
Seed code – 385431

Spawn biome- Plains

Minecraft Coordination-1271, 100, 333
2. Floating Ship | Best Seeds In The Minecraft Game 
Shipwrecks are standard designs of Minecraft's oceans.

It is the top seed of pirate-based lore in the game.

The ships always spawn floating, underwater, or next to the water.

In each case, the wrecks of these ships survive with their names in fragments within their structures.

However, this

seed in Minecraft

shipwreck makes a complete ship float in the wind.

You can earn fantastic loot and the wood you need from the "not wrecked" shipwreck.
Seed code – 8496735434209012290

Spawn Biome: Swamp

Shipwreck Coordinates: 598, 78, 145
3. Deadly Spawn (6 Exposed Diamonds) | Best Seeds In The Minecraft Game 
Depending on your skill set, you can consider this seed positive or negative.

It sires you inside a massive hole in the middle of flowing water. You have to move. Otherwise, the water will gradually move you into the lava.

You can decide to move with the flow to find a fossil near the lava. (with six diamond ore alliances in it)

The main problem arises when you try to get out of the pit and can not collect any resources without reaching the wood first.

You need to climb out, and it is not an easy task.
Seed Code: 1870652620

Spawn Biome: Desert

Fossil With Diamonds Coordinates: -145, -48, -58
4. Exposed Seaside Lush Cave
Lush caves are the most attractive cave biomes in the game.

These biomes have unique greenery and an entire landscape.

 You can discover axolotls in  Minecraft within these caves.

Minecraft has sealed the seeds deep below the base with these stunning features.

Fortunately, this

seed in Minecraft

corrects that by spawning us on the top of the hollow mountain, which is entirely open on one side.

 Inside this mountain, one of the largest lush cave biomes is present.
Seed Code: -1058557249

Spawn Biome: Forest

Cave Entrance Coordinates: 123, 72, -393
5. Exposed Dripstone Cave
This seed spawns us into a world with Minecraft's largest dripstone cave ever.

 You don't need to break any block to get it. Instead, it's staying for you to hop right into it, and this seed will lead you to the deep shady biome.  
Seed Code: -1895276179

Spawn Biome: Forest

Cave Coordinates: -31, 73, 749
6. Village Inside The Ravine
Top

seeds in Minecraft

propose rewards near the spawn point. 

This individual seed pushes you to travel many blocks before spawning.

 It establishes a whole plain village inside a ravine( with villagers, farms, mobs, and the iron golem)

Although you have to go around a lot to find it, it is worth it
Seed Code: -2411962888717872099

Spawn Biome: Snowy Slopes

Village Coordinates: 1001654, 15, 1001117
7. A Jail At Spawn
Pillager outposts are the most impressive hostile formats in the game. 

It is the best place to discover Allays and obtain goat horns in the game. 

Most interesting is that cages generate beside them, and seeds can generate nine at once.

Typically, you can find three of them in one spot.
Seed Code: -5162463139528282983

Spawn Biome: Plains

Outpost Coordinates: 1001654, 15, 1001117
8. Flowering Mountain
Our next

seeds in Minecraft

spawn with a town in the centre of a massive flower meadow.

You can find poppies, cornflowers, tulips, and dandelions here.

After the flower hunt, a massive dripstone cave biome is present just below the village for exploring. 

You can utilise any of the cave openings to enter it.
Seed Code: -9041095622391834929

Spawn Biome: Plains

Village Coordinates: 3550, 124, -1005
Conclusion
Those are the best Minecraft seeds we discussed for now. Hopefully, you can find your preferred worlds that match your needs. We tried to cover a diverse range of seeds in Minecraft in this article. Now you have the power to create the best Minecraft seed in your hands. So do not wait any longer; you start exploring your Minecraft seeds right now.