Best Smartwatch Under 5000: Nowadays smartwatch is a common gadget for everyone. So many smartwatches available is the best price range under 5000 rupees. Taking the mobile from your pocket every time you get notification can sometimes be frustrating, isn't it? That is where the Smartwatch helps.
You can use the smartwatch to attending calls, track your fitness, and also notifications many more. You can keep track of the health-related data like a heartbeat, sweat, etc. Many smartwatches come with a speaker that allows the user to play music
We collected the top brand best smartwatch in India under 5000. So, in this article, we'll be listing the best Smartwatch in India along with their pros and cons. Please check out below
How did we prepare this list of Best Smartwatches under 5000?
We had to choose only the genuine performance-based smartwatches that offer unique features and are durable enough for long-term usage. We have taken into consideration the UI and the user ease during operations and battery life.
You can be sure to find the best smartwatch that fits your budget and requirement as we have gone through each and every one of the entries for your convenience. We have tried to cater to different types of requirements in a single list so that you don't have to go through extensive research.
5 Best Smartwatches Under 5000 in India
You can buy Colorfit Pro 2 in 3 colours namely Teal Green, Jet Black and Mist Grey. Overall the display and bezels make for good contrast, especially in the Mist Grey colour. There are detachable straps that accompany Colorfit Pro, These straps are made up of silicone and feel quite comfortable even after wearing it for a long time. You don't sweat much while wearing Colorfit Pro 2 which is an advantage to those wearing it in the gym or on the run. Colorfit Pro 2 comes with a 1.3-inch LCD IPS display which displays clear pictures of 240×240 pixels resolution. The viewing angles are quite wide on Colorfit Pro 2. The colours were bright and distinctive and the display performed really good even in brighter conditions.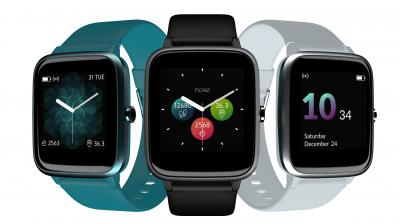 There is also an added music control feature in Colorfit Pro 2 that lets you shuffle through your playlist and skip or play/pause tracks through your smartwatch. It is a particularly good option for those who travel to the college or office every day in public transport. Colorfit Pro 2's performance was mighty impressive. On regular usage, you get a magnificent 10 days battery backup from the 210mAh battery on a single full charge. It takes around 3 hours to completely charge this smartwatch which is a decent charge time looking at the battery backup.
Price: Rs. 2,998
Link: Amazon.in
For those buyers who searching an efficient & durable smartwatch with all advanced features as well as, and this Amazfit Bip lite smartwatch an excellent choice for you. Has a powerful battery capable of lasting up to 45 days on a single charge, lightweight and more comfortable to wear day and night also.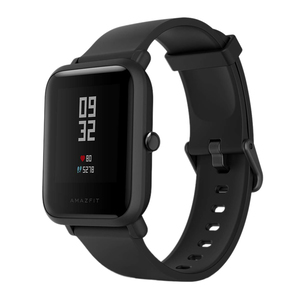 You can also use this watch as sports tracking like cycling and walking, running and activity tracking with daily steps, give you the motivation to be more active every day. What we do not like is, The build quality is good, but band quality is not well and Bluetooth disconnection from phone beyond 4 meters.
Price: Rs. 3,499
Link: Amazon.in
The Amazfit Lite is the affordable sibling of the Amazfit Verge smartwatch which is still one of the most sought after mid-range smartwatches. This feature-rich smartwatch priced under Rs.5,000 in India packs in a ton of useful features that will let you step up your fitness game a notch higher. The Amazfit Verge Lite features a rounded dial. If you're the type of person who prefers round shaped dials to square-shaped dial, you should go for the Verge Lite than the Bip S we discussed just above. The dial is made from a polycarbonate material and looks and feels very attractive. The quality of construction is top-notch and durable.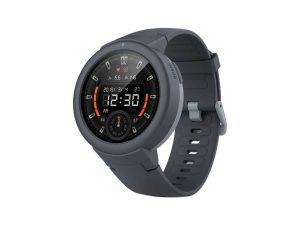 The silicone strap is very comfortable and skin-friendly. It comes with a buckle mode lock for a secure fit. You can easily swap straps on this smartwatch with other colourful ones available in the market. The Huami Amazfit Verge Lite features a 1.3-inch AMOLED display with a resolution of 360 x 360 pixels. This is a touchscreen as you might know and has an easy to use UI optimized for touch navigation. This display is protected by Corning Gorilla Glass 3 to prevent accidental scratches. The Huami Amazfit Verge Lite is powered by a 370mAh Li-ion battery which is rated to last for up to 20 days on a single charge.
The Amazfit Verge Lite is a feature-packed smartwatch with a gorgeous OLED display and decent build quality available for a budget just under Rs.5,000.
Price: Rs. 4,999
Link: Flipkart.com
Realme is a sub-brand of Oppo dealing with budget smartphones and other accessories, specifically marketed for countries like India and Indonesia. The Realme smartwatch has a square-shaped dial with rounded edges resembling the Apple watch from a distance. However, there is a significant chin under the display which will be visible when the screen lights up. The single button on the right side serves multiple purposes such as turn on/off the display, select an action, or to go back to the main screen from where in the UI.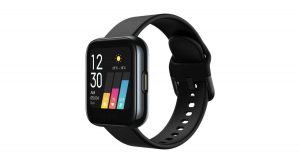 The strap is made of silicone and feels solid and comfortable. The strap can be easily detached. This smartwatch comes with a relatively large 1.4-inch LCD boasting a resolution of 320 x 320 pixels. This is a full capacitive touch screen display and the sensitivity is excellent. The watch registers touch very effortlessly and the UI interaction feels fluid as well. It comes with support up to 14 sports modes for active tracking, this is the smartwatch for those who follow an active workout lifestyle. Realme promises around 8-10 days of usage on a single charge with this device.
Realme smartwatch is a feature-packed device perfect for those who want a smart wearable with fitness tracking options. The expected software support for this smartwatch makes it a value for money purchase under Rs.4,000.