IPL 2021 is going on, and if there's something that cricket lovers are trying to achieve is playing fantasy games along with watching their favorite IPL team. Fantasy apps have truly become the best apply & get method, to earn some handsome amount of money in the current time.
It's not like other betting games where everything is dependable on your luck, instead, here you trust your analytical skill and your overall cricket knowledge to get that winning treasure.
To make this IPL team or cricket team prediction more trustworthy, there is something that can help you stand out from your fantasy teams, and it's getting advice or reference predictable IPL teams from cricket experts.
And there's one such source called 'Fantasy Cricket Guru' that can help you to get a win in the fantasy cricket contents, and cam also updates you with day-to-day cricket news and new fantasy apps info.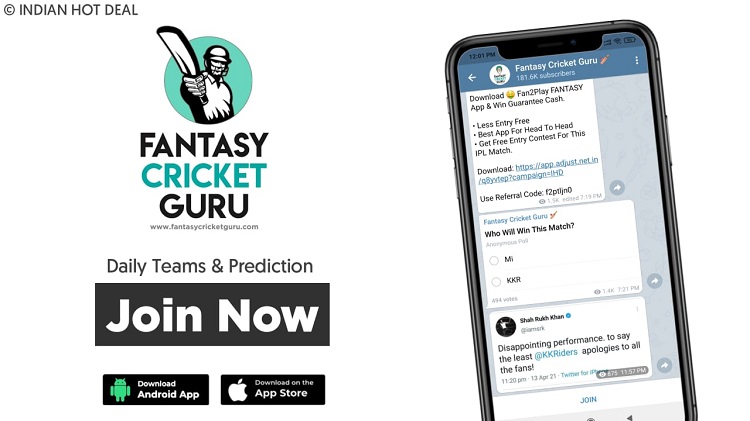 Plus, if you're down to know about which source is it and where you can find+join it, then stick with this tutorial till the end, and there's a lot more fun to come…
What's Fantasy Cricket Guru Telegram Channel All About?
Fantasy Cricket Guru is a Telegram channel loaded with millions of subscribers, which you gonna find in the Telegram application. It is mainly based on Fantasy Cricket games, where they guide their subscribers to choose the best possible cricket team according to their cricket knowledge so that members could get a winning prize in their fantasy apps.
The telegram channel mostly focused on the giant fantasy app 'Dream11', and you're gonna see the Dream11 prediction teams along with other popular fantasy apps.
Well, I guess, you got brief info. about what is a Fantasy Cricket Guru channel is and how this gonna help you get your Fantasy game better. But before that let us deep dive in more about it…
Things You're Going To Get In Fantasy Cricket Guru Telegram Channel
Well, it's 'Fantasy Cricket Guru' so you can suppose what you're going to get in this telegram channel, but to make it more specific, here are the reasons that why you should join this giant fantasy cricket telegram channel.
Daily fantasy cricket team predictions
Live cricket scores
Youtube videos in detail explanation about choosing team players
Quick tips & suggestions regarding fantasy contests
Trending cricket news about players & IPL teams
Kabaddi & Football fantasy team predictions
Newly launched & popular fantasy games/apps
Fantasy cricket add money offers
Free cricket leagues & voucher giveaways
and a lot more…
How To Join 'Fantasy Cricket Guru' Telegram Channel?
Download Telegram App from Google play store | Appstore
Click 'Install' and Complete the installation process
Open it, either Register with a new account or Log in to your existing Telegram acc.
Hit that Join button
Get back to Telegram Home, Hold the channel & Click the 'Pin' icon to stick it to the top
That's it! (Make sure you don't mute the notifications to get the predictions in real-time)
Final Words
The number of cricket fantasy apps has risen to the top curve, and that of cricket lovers as well. And it's tough to select Team players in each game when the player didn't perform well in the previous match.
So, to keep things clear, you must have a reference or guidance to create a well-performing fantasy team and I hope 'Fantasy Cricket Guru' is the best example in this scenario. At last, join the telegram channel, have fun and dig the winning treasures. Peace!