The Fintech movement has brought us a lot of startups that aimed to meet the user's security & better money management. But if you think that the list has reached its destination, then let me introduce one such fintech startup that is well prepared & changed the online payment way, and here we are talking about Noida-based smart startup 'YPay'.
It was founded in 2017 by Navneet Gupta with the aim to provide physical prepaid cards to youths & kids to make them financially free. 'Bharat Ka Smart Card' or 'YPay' allows any parent to manage their child's expenses & online payment security for better financial management.
The startup lets youngsters make payments independently even without owning a bank account. It has relieved the trouble of parents of giving debit/credit cards to their children so that the kids could make online/offline payments without using their parent's prepaid cards.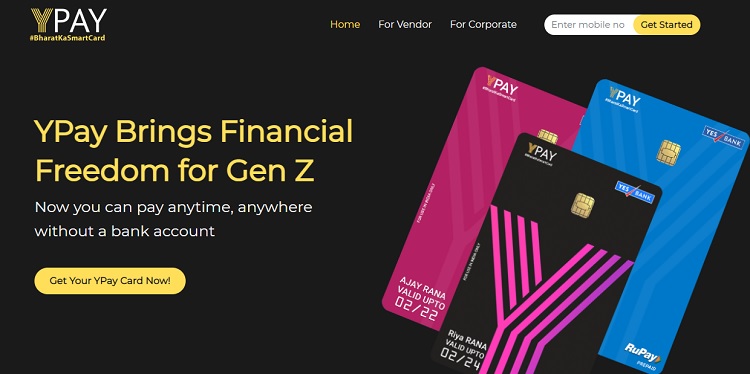 The joy of payments also gets enhanced due to the exciting cashback & rewards from the YPay payment application. So if you're a teenager and finding ourself in a way with blocks of having your own prepaid physical card, then it's to make your move in YPay.
Also Read: How To Apply For Slice Pay Card (Free Lifetime Credit Card)
YPay – Key Features:
No Bank – The very first feature that attracted me a lot is its requirement of no bank account in order to issue a physical card. And that's what makes the startup, a unique product.
Numberless Card – To ensure the card's safety, YPay provides a numberless card with no code & no. printed on the physical card. It improves consumer protection to 2x and reduces the level of fraud.
Payment Freedom – If you think the YPay card is only eligible to make online payments, then you're wrong! You have the freedom to swipe the card at any offline store available within the country.
Manage Through App – The YPay application is capable of doing financial maths to calculate expenses & money growth. Certain parameters built with modern technology are there to briefly showcase a picture of payments & transactions to smartly save money.
Rewards with Offers – The startup promises to offer rewards done on every transaction using the YPay card. There are over 300+ merchants available on the application where you can a ton of money using available offers from YPay.
Secure & Safe – If it's about money & payments, nearly any genuine application will look for the user's safety & payment security. And you receive the benefits of both safety & security in your YPay card so that you don't have to take a break while transacting at online/offline stores.
Powered with Rupay – The YPay is powered with Rupay, which means you can easily use it anywhere throughout the country without any issue. Additionally, there are various offers provided under the Rupay card, so it's like a bonus for you.
Minimal Fee – To get the physical card, the app. user needs to pay Rs. 199 for a non-personalized card while if the user wishes to customize it, then the app. charges Rs. 499 for a personalized card. And the pricing of both of the variants is one time only so that you don't have to pay for it repeatedly over a period of time.
Also Read: How to Get Neowise Money Card?
How To Signup & Apply for YPay Card?
Download the YPay Card app
Open the app & click on Register Here
Submit your basic details like Name, Gender, Email & Location
Enter Referral Code (to get Signup Bonus) – 0858116
Proceed further & Verify your mobile number with OTP
Now to get your KYC verified, visit Profile > Aadhar Card
Upload your Aadhar Card & click Submit
Within few days, your KYC application will be successfully verified
To get your YPay Card, click on New Card at Homepage
Select Basic YPay card, Enter shipping address & complete the payment
Your YPay physical card will be delivered to you within the given time period
Enjoy!
How To Add Money in YPay?
Open the YPay app
Click on Add Money at the top right corner
Enter amount & complete the process with any payment method
Done!
Refer & Earn – YPay
The smart payment app. also offers to referral & earn scheme to get profits on each successful app. referral. And to get your referral code, follow the below steps :
Open YPay app
Click the Profile icon at the top left corner
Visit the Referral section, copy your Referral code & start sharing on WhatsApp, Facebook, etc
Enjoy!
Final Thoughts
For kids, making online payments securely with prepaid cards are nowhere easy in the current time, when there are tons of fraudulent activity going on.
But using services like YPay lowers the trouble with its security technology for a risk-free payment environment. And I guess the app. would be useful for all the parents to track & manage payments of their child's finances.