First things are always been special for any individual throughout the globe, whether it's about getting your first toy or your first mobile phone.
The same moment can be felt when it comes to credit cards, well if I talk about my experience, I just got some serious joyous feel when I just received my first credit card. And I guess if you're a newbie who was just using a debit card for years would surely wanna touch that joyous sense too.
And to do that, I have got one such credit card that is made perfectly for beginners who are just new to the credit line industry and are looking to improve their credit score for the near future.
Well let me tell you the name and it's the one and only – "OneCard". The SBM Bank-powered OneCard is a visa signature credit card made with a metallic surface. Yep, being a high-profile visa card and metallic body, it is completely free of charges in terms of issuance & annual renewal.
With a credit limit of up to 2lac inr, you get exclusive 5x reward points which are totally usable in shopping and gift vouchers. The eligibility criteria for the OneCard requires a good to zero credit history and a couple of documents for KYC verification.
Apart from it, you don't have to fill in any extra unnecessary details to grab the metal card. So if you're such a person who's gonna apply for his/her first credit card, then choose OneCard! Below are some features of the credit card that you should know if you're interested in getting it. Therefore, let's read…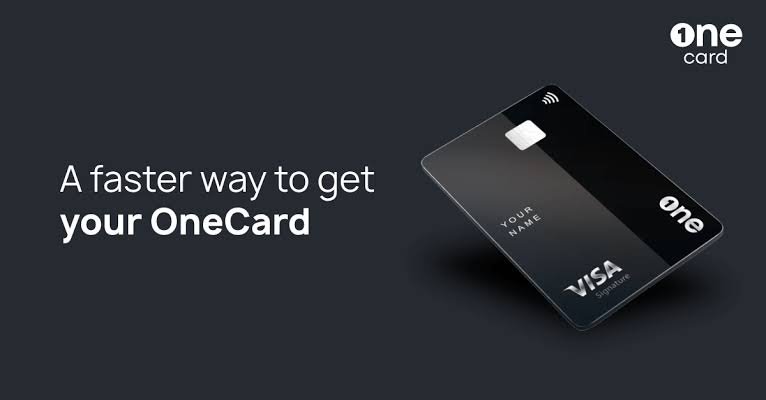 Features/ Details of OneCard
a pure metal card
no joining or annual fee
lifetime free credit card
1 rewards point per Rs.50 spent
5x multiplier of points when spent on top 2 categories within the month
high discount offers on selected merchants
lowest foreign exchange markup fee: 1%
no rewards expiry or redemption fee
over limit fee: 2.5% of the amount
finance charges: 2.5% to 3.5% p.m. | 30% to 42% p.a.
eligible for both salaried and self-employed
easy dispute management & free insurance up to 1lac
referral program to earn 2000 rewards points per refer
Also Read: LazyPay Free Card: How To Apply, Benifits of LazyPay Card
How To Get OneCard?
Signup with your Mobile No. & Email
Verify via OTP
Enter Aadhar + PAN No. to get your credit score
So if you have a good credit history before, you will be eligible to receive the OneCard with a limit based on the CIBIL+EXPERIAN score
Fill up your address to check the availability, if it gets done you can order/activate your OneCard
Those who have zero credit history may get their OneCard by creating an FD with an interest rate of up to 7.1% and based on the FD you create, OneCard will set up your credit limit
Congrats! Your virtual credit card will be activated instantly & the physical one will be delivered within a 5-6 days shipping period
Enjoy!!
Also Read: How To Apply For Slice Pay Card (Free Lifetime Credit Card)
Final Words
Grabbing hands-on premium credit cards is not an easy game, but the arrival of neobanks in recent years has completely changed the scenario. Now there's no need of visiting a Bank branch, list in a queue, and fill up lengthy forms.
You just have to install an application on your smartphone, and you are ready to take a ride. And I hope, you have enjoyed this ride with our today's tutorial about OneCard.
Share your experience with OneCard & let others join in this riding experience of credit cards. Peace!