After the phase of demonetization, Indians have shown a keen interest in digital payments, which led us to the nation as the top-ranked in terms of cashless transactions. However, if we take a look around the payment methods, usage of credit cards is still under-penetration in the Indian market.
As per the data, about 100 million India today transacts digitally, and only have of them rarely have a credit card. And concerning the fact, the fintech startup 'Uni' has stepped in to cover this opportunity to help the users move towards with best credit experience.
Uni is an innovative step in this digital generation, that aims to bridge the gap for credit cards and make them more accessible for people across different regions.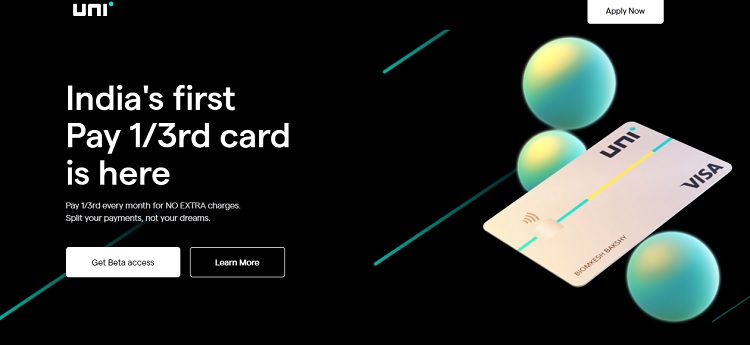 The startup is founded by Nitin Gupta (Co-founder PayU India and former CEO of Ola), with co-founder Prateek Jindal, who has done well-known work on Ola Money Postpaid. The duo is also joined by Laxmikant Vyas, who has worked with Bajaj Finance and EMI businesses.
With the vision of making Uni as India's first Pay 1/3rd card, the startup has raised $18.5M from Lightspeed India Partners and Accel India. After working on their most innovative product, Uni has finally started accepting applications in beta access for getting their 1/3rd visa credit card.
It is claimed that the startup lets you pay your monthly spending in 3 parts over 3 months for no extra charges. So let's move further and discuss the features of the Uni 1/3rd card and know how you can apply for it without paying any joining fee. Let's explore…
Features Of Uni 1/3rd Card
1/3rd Scheme: The most innovative feature seen in Uni's credit card is its 1/3rd payment mode with no charges on it. Purchase the item, and then pay in 3 parts over 3 months without paying any additional rupee.
Free Entry: Currently, for all beta customers, there is no joining fee to get Uni's 1/3rd credit card. And along with it, you won't need to pay any annual charges too. So it's worth creating your Uni account now than never.
Rewards: Uni is all set to provide you a 1% cashback when you choose to pay in full, post the 30 days free credit period.
Longer EMIs: The particular feature is still under-processing, where you can choose your own affordable longer EMI plan from 6, 9, 12, 18+ months to complete the payment.
Payments via QR Code / UPI: Payments using a Uni credit card are now easily done just by scanning the QR code at the stores or by typing the UPI address. Well, it will take a bit of time to have this feature in Uni, so you have to wait until it starts accepting QR/UPI fully functionally.
Money-Back Guarantee: If somehow, you get charged with any additional fee, a 100% refund will be initiated to you.
Instant Support over Email & Whatsapp: Just hit your query directly on your WhatsApp or email, and your issue would be resolved within minutes to hours. So you won't need to wait in a long queue to get your work done.
How To Apply For Uni 1/3rd Visa Credit Card
1. First of all visit the Uni.cards official website.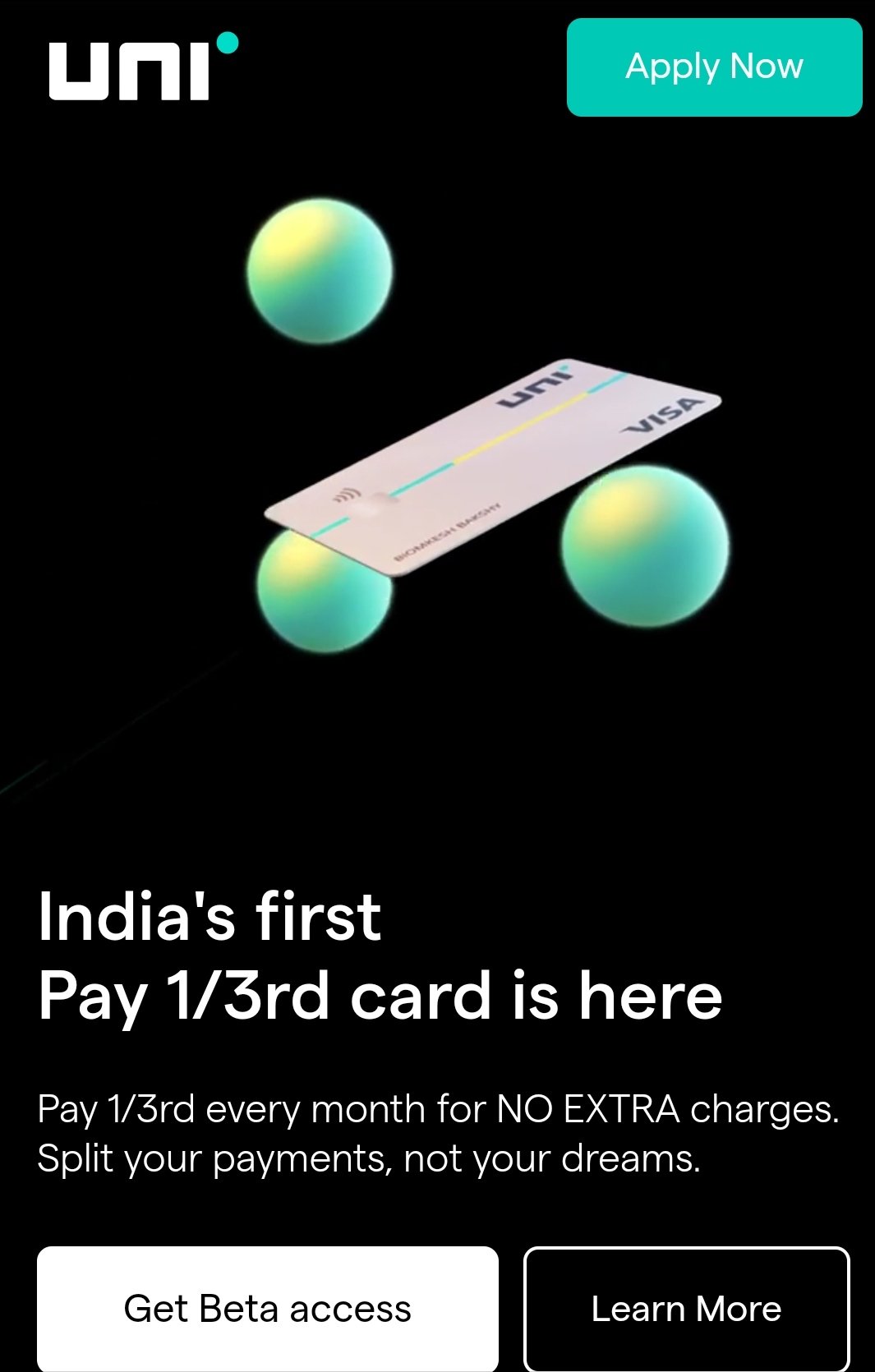 2. Either click the 'Get Beta access' or 'Apply Now' button open the signup form
3. Fill in your Name, Phone number, Email Id, and your Pan no.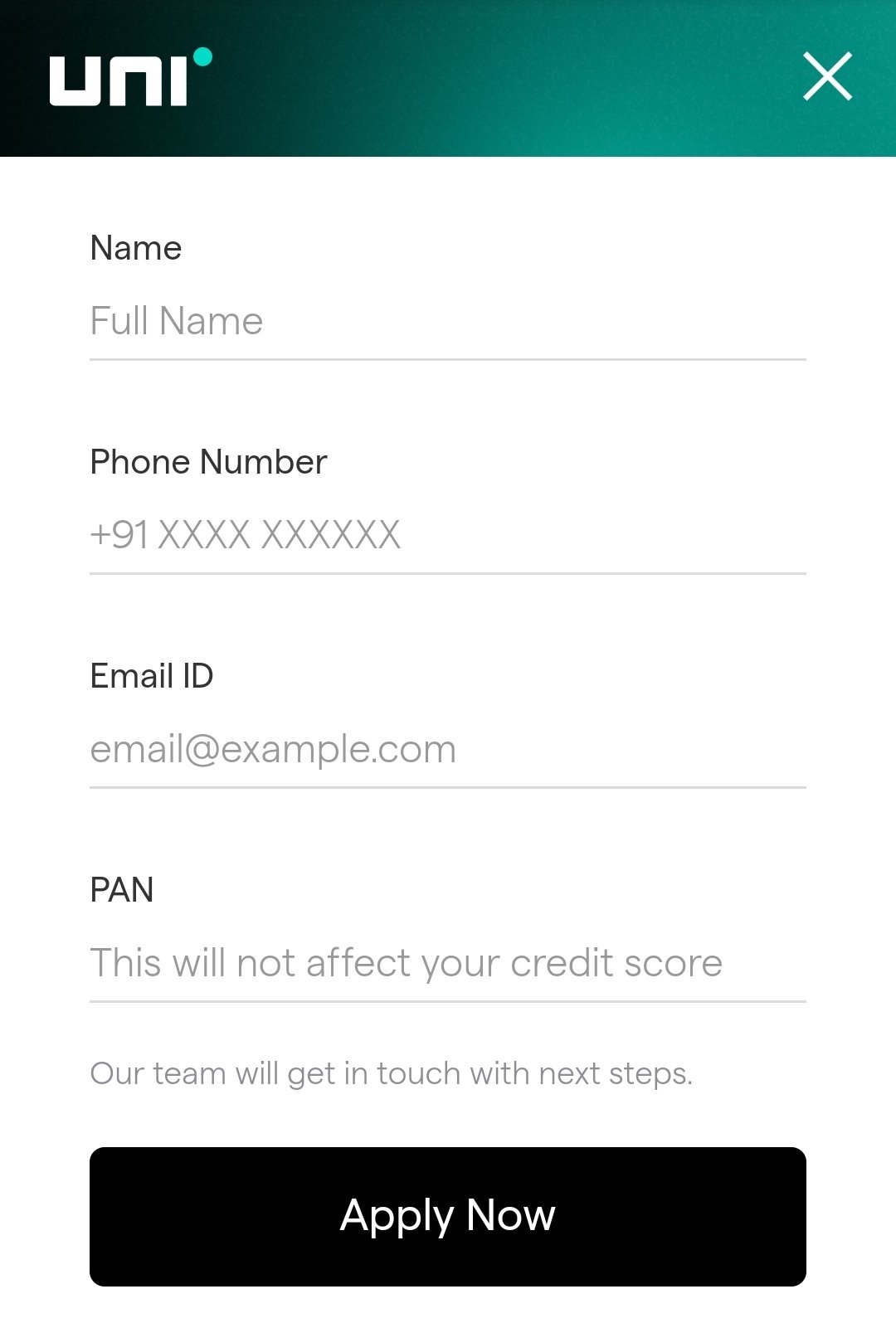 4. Hit Apply Now
5. Now you will receive further signup instructions over Email and mobile to proceed with the process
6. Enjoy!
Also Read: Paytm First Citi Bank Credit Card Unbiased Review
Final Words
The number of credit card users in India is really low and the reason behind such a low figure is because you must have a good credit score and employment proof to get your hands on credit cards. And due to that, the ratio of credit card and debit cardholders has some shocking results.
And we should also agree to the part, where not everyone is dependable on credit cards due to their higher interest rates. But after examining startups like Uni, we could see a growth chart in the upcoming advanced fintech era.