In the race to providing digital banking solutions, we have welcomed numerous neobanks & fintech startups. And within that list, there's one digital banking platform that got major attention due to its unique feature.
Yep, here we are discussing India's first Neobank 'Walrus' that is providing personalized debit cards for Gen Z. The concept of a printed signature on the prepaid card made the startup hit over 200k active users, which are majorly young adults & teenagers.
Walrus believes to educate the younger generation about financial management with their smart digital card & gamified app features. The startup was landed by the CEO, Bhagaban Behera in 2019 to make the teenagers financially free.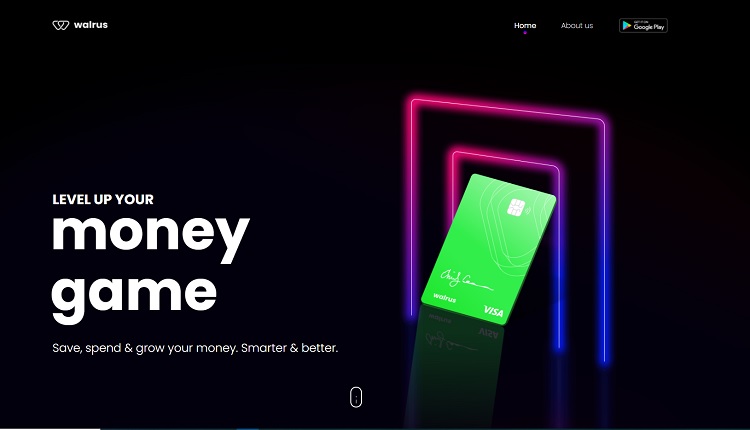 As the current 'Reels' generation is unaware of money management & banking experience, and Walrus is filling that gap with its unique service. Using walrus, the user gets a free virtual visa card, powered by RBL without the need for any bank account.
The issued visa card from Walrus is usable on e-commerce platforms, offline payments & at every merchant that supports VISA. And if you're a parent or a teenager, who wanna own a personalized signature debit card along with a digital banking experience, then follow this tutorial till the end, and have fun with Walrus Club smart prepaid card.
Also Read: How to Apply for Omni Card?
Walrus Key Features :
Personalized Card – Walrus card lets you customize the prepaid card with your printed signature on it. With minimal fees, the personalized physical get delivered to your home address.
No Minimum Balance – There's no need to maintain a minimum balance in your walrus account. Even with zero balance, you can keep your account alive with no restrictions.
UPI Transactions – The application allows money transfer via UPI service, so either if you wanna send or receive any amount, then Walrus has the option to complete the payment via UPI option.
No Hidden Charges – Except for physical card charges, you won't need to pay any extra fees over your walrus prepaid card. No annual charges & maintenance fee is required in order to keep the card active.
Powered With RBL Bank – The visa debit card issued via Walrus app. is powered with RBL bank as per RBI guidelines.
Walrus Rewards – Walrus has its own store called 'Walrus Store' where you get access to hundreds of brands to shop with various discounted offers. Along with that, walrus offers 'Walrus Bitcoins' on each transaction done using a walrus card, so that the user can redeem the earned coins at present market rates.
Walrus Club – The startup also owns a personal club or community of teenagers that focuses on entrepreneurship & financial management, so that the young ones could achieve a good understanding of the money market.
Also Read: Guide: How To Apply For YPay Card?
How To Apply for Walrus Card?
Open the Walrus Website
Download & Install Walrus application
Skip the Walrus intro & Enter your Mobile Number
Get it verified by Entering OTP
Now fill up your First Name, Last Name & below Referral Code to get a signup bonus
Walrus Referral Code – 7PW2P extra Walrus coins signup bonus.
Now your Walrus account will get activated with a newly issued virtual visa debit card
In order to use it, you need to complete your KYC process
Also Read: How To Apply For Slice Pay Card (Free Lifetime Credit Card)
How To Complete KYC Verification in Walrus App?
Visit Profile > KYC
Click the Complete KYC option & Select Aadhar as your KYC document
Enter your Aadhar Number & Proceed
At the Next Step, you will be required to fill up your Guardian's basic details
After that, submit your full residence address including name & Pincode
Upload the images of Submitted KYC documents & Click Proceed
Within few hours, your KYC verification will be successfully done
To order your personalized walrus visa debit card, you need to pay an amount of Rs. 350 & the physical card will be delivered to your door within weeks
Enjoy!
Also Read: How to Get Neowise Money Card?
Wrapping Up
It seems impossible for any adult to get a debit card without a bank account, although apps like Walrus do the opposite & thus provide digital banking solutions with unique smart features.
So it's time to get your hands on such cards that have physical printing of your signature in the most stylish way possible. Share the information about using Walrus among your mates, and let them enjoy the amazing smart service.