The impact of covid waves has resulted in negative figures in the finance industry. And the chance of survival for the medium to small business owners has been gone the toughest one in that phase.
Pointing that, a lot of fintech startups come up with different initiatives to support the local group, and the majority of them are money-lending focused.
The startup that we are addressing today is ZestMoney, a smart fintech launch that aims to provide loans to small local shops & business professionals to make their financial life easy.
In this money-lending category, they have also now set up the buy now & pay later initiative with a better credit line to make purchases in one click. People with poor credit history can easily avail of loan options from the platform with given EMI plans.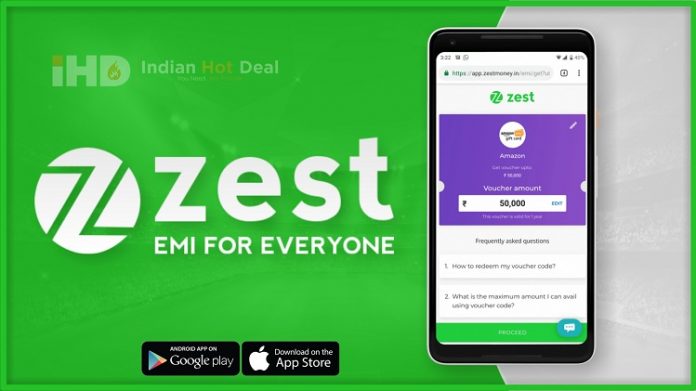 Also Read: 10 Best Instant Loan Apps In India
ZestMoney is connected with over 15000+ online merchants and offline stores, to make payments easily. You just have to sign up to know your credit limit and you're ready to purchase any product or service you wish with no extra cost or interest for up to 3 months repayment period.
So, if you're that person who's going through a severe cash lack then Zest might be that friend which you should talk to seek help instantly.

ZestMoney: Key Features
Repayment tenure ranges between 9 months and 2 years
No need to submit any additional documents to apply for a personal loan from ZestMoney
No application fee required
No pre-closure fee required
No Joining Fee or Hidden Charges
Instant Loan approval with minimal documentation
Flexibility to select the EMI option
No Paperwork complete process is online
No credit card or CIBIL score required
Wide acceptance at 3000+ online stores
Personalized credit limit up to 2 Lakh
No cost EMI without a Credit card
Flexible EMI Options
Also Read: Best Credit Card Bill Payment Apps in India
Who is Eligible for ZestMoney?
Any Indian citizen with an age between 18 years and 65 years with a bank account and PAN card can apply for ZestMoney
How To Signup for ZestMoney?
Download the ZestMoney app or Go to the Sign-in page of the ZestMoney website
Enter your mobile number, and click Get OTP, you will receive the OTP, verify the OTP
Activate your credit limit by completing your profile
Mention your details (Name, DOB, Address, Pin Code details) and again click to continue and then enter your PAN CARD and AADHAR CARD details and your Employment details
Submit your KYC documents & Verify it
Done! You will receive a confirmation email about your application approval, once it gets approved, you're ready to use the services
How to Apply for a Loan in ZestMoney?
After successful approval, you have to set up your repayment to activate your credit limit
And then Shop with any of ZestMoney merchant partners and utilize your credit limit
Once you shop with any of zest money merchant partners with consistent repayments then you will be eligible for availing instant personal loan through ZestMoney
Done!
Final Words
Finance mathematics is such a puzzle, that only a few can handle and manage it. And to play with that matrix, you should have taken loans and EMI payments, and getting that isn't an easy step without a proper credit history.
However, apps like ZestMoney have landed on the digital finance market to help people like us easily avail loans and EMI options on purchases with zero credit scores. And I guess the platform might have reduced your loan burden to help your financial condition be on track. If there's something that we have missed in the tutorial, kindly mention it in the comments section. Peace!