Getting a new computer is thrilling, but the language barrier can quickly turn that excitement into disappointment. When you're setting up a new Chromebook, you'll be prompted to modify your language choice on one of the setup screens But what if you change your mind? Or, once you give away your Chromebook, how do you change the current language in Chrome? Chrome OS is no longer browser-based but has numerous elements and fine settings to personalise your experience. You can utilise emojis on a Chromebook and even open the Chromebook Task Manager to operate significant procedure resources.
As for language preferences, Chromebooks now let you fix different languages for different use cases. You can change the language system-wide or fix another language for content on the Internet on Chromebook. Additionally, you can specify your keyboard and voice input language, and Chrome OS will remember it. So if you want to personalise your Chromebook even more by changing the preferred language, follow our guide below.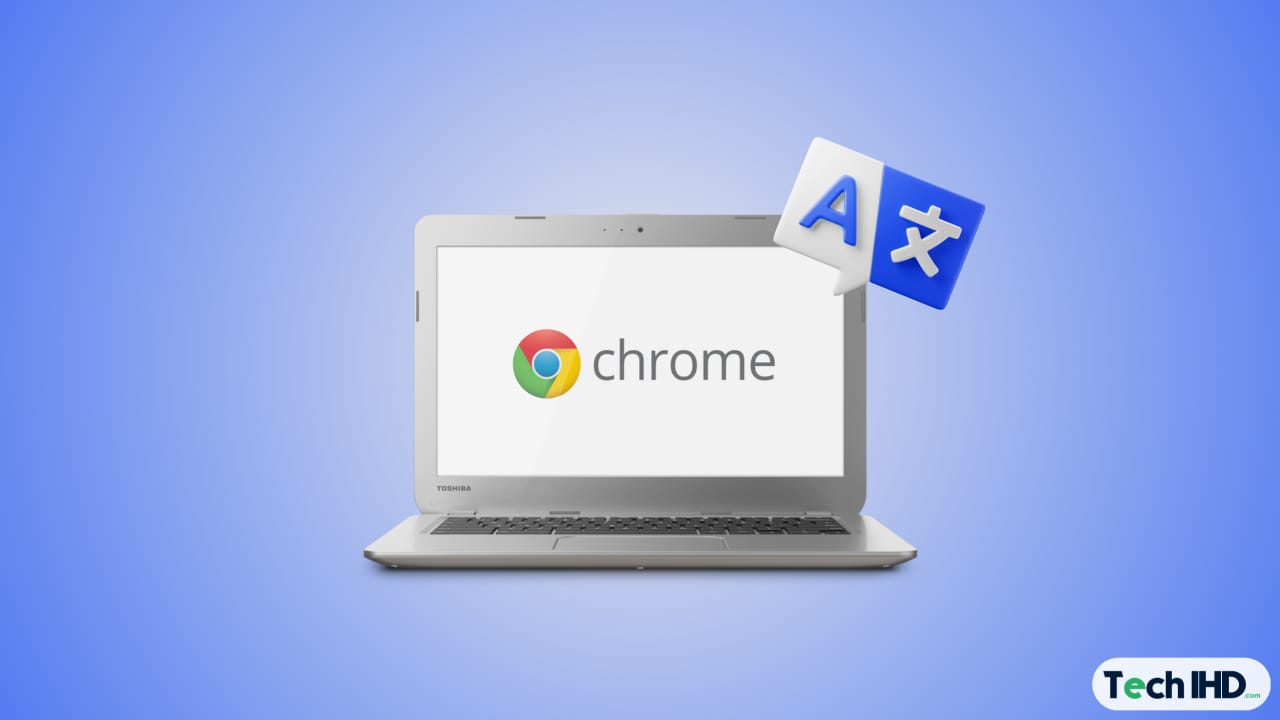 Change Language on Chromebook
If you own a Chromebook, changing the language is simple if you know how to navigate the computer settings. To get it done quickly, you know these points:
Change the system language on a Chromebook.
If you want to make system-wide changes to the language on your Chromebook, you can do so from the Settings page. Here is how it works:
Select the Quick Settings panel (the bottom-right corner) and click the Settings (cogwheel) icon.

On the Settings page, tap "Advanced" in the left sidebar to expand it. Now, select the "Language and input" option.

After that, click on the "Language" option in the right panel.

Now, click on "Change" next to "Device Language".

   Finally, select your preferred language and click "

Confirm and Restart"

. After this, your Chromebook will restart, and the default Chrome OS language will change to the choice you selected

Choose how you want to use the language from the available options.
Select "Display Chrome OS in this language" if you want to use that language for the menus. You must then restart your computer and sign in again for these changes.
Select "Move to Top" to show web pages in your chosen language. You can get Google auto-translate web pages by clicking "Offer to translate "in this language.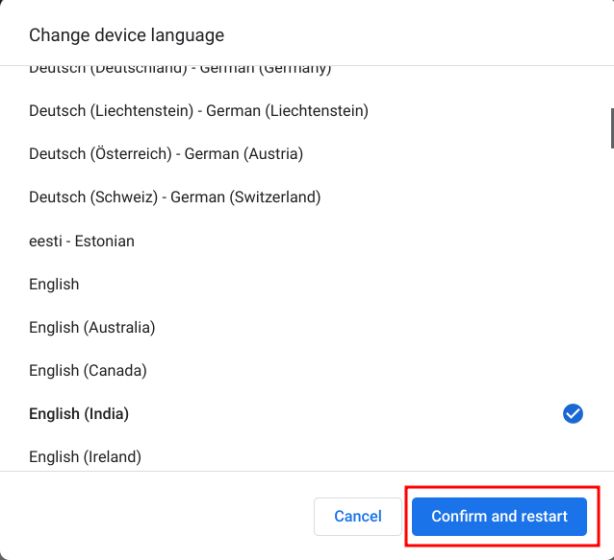 Change the language of websites on a Chromebook.
If you want to set a distinct language for the content displayed on the websites, you can do that very well. If the website is unavailable in your preferred language, you can also select the secondary language (as per preference). Here's how this process works:
Open the Settings page and guide to "Language & Input" from the left sidebar, as described in the section above. Then, In the right pane, go to "Languages."
Next, click "Add Language" if your preferred language is not listed, select a language from the pop-up to add to the list.
Next, click the three-dot menu, which is next to a language and scroll it up or down based on your preference. Make sure to move the language you prefer to the top. The Google Chrome browser will display the website in your selected language.
Only change this setting if you want all your web pages translated into the new language across all your devices. This setting is synced with Chrome!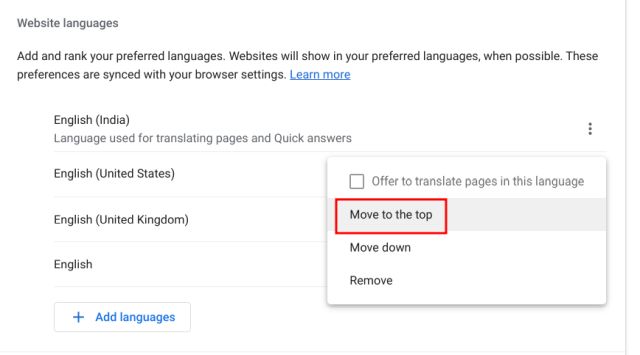 Add or remove the language of web content
Now that we've changed your device's preferred language, which primarily appears in settings and menus, you can change or add a preferred language for web content when available. To do this, go to Settings > Advanced > Languages again and then select Add language under "Web content languages".A dropdown of supported languages will be displayed. Select the language of your choice and restart your Chromebook. This is how you can change the language of your Chromebook's device and web content.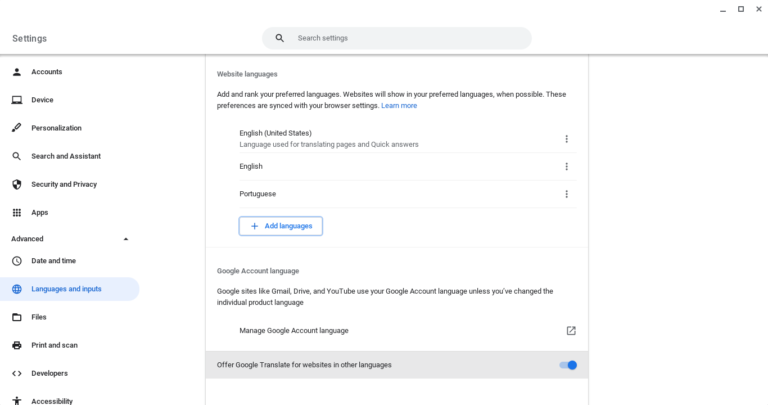 Change input language on your Chromebook
To change the input language, such as keyboard or voice input, open Settings and go to "Language & input" under

"Advanced" i

n the left sidebar.

. Click "Input and Keyboard" in the right pane.
Under "Input Method", tap the "X" button to eliminate the input language you don't like. Also, you can click

"Add input method"

to type in your language or dictate.

Here, choose a language based on your keyboard input preference.

You can add multiple languages to quickly change the keyboard input language from the Chrome OS shelf (taskbar).

Enable the "Show input options on shelf" toggle on the

"Input & Keyboard"

settings page.

Finally, click the language changer button on the shelf and choose your preferred input method.
Change the Chromebook input language with a keyboard shortcut.
You can fast switch input languages on a Chromebook using a keyboard shortcut. Here is how it works:
Press "Ctrl + Space" on your Chromebook, and the input mode will switch to another language, assuming you've added multiple languages for typing or dictation.
Additionally, you can press "Ctrl + Shift + Space" to switch to the next language. You can see the selected language in the lower right corner. This way, you can change the input language on your Chromebook instantly.
Changing the language of your account
Another way you can change your language across the board is to change it globally through your Google Account settings! In the same "Language & Input" section of the Settings app, go to "Language" and scroll down to "Google Account Language".From here, you can click on the square with the arrow icon shown below to redirect you to your Google Account on the web. Changing your account's language will apply across services like Gmail, Drive, and YouTube but will be excluded if you manually change a language for a site. You can view this setting directly on the web by visiting the language page of your Google Account.
Final thoughts:
So here are some ways to change and add your favourite language to a Chromebook. You can change the system-wide language for Chrome OS, add language preferences for your Google Account, set the language according to the ranking for displaying content on the web, and even change the input method.