Android has always been preferred for its customization, interface, and easy controls. And because of such a huge response, they have managed to come up with a total of eleven major releases since the start.
And now it's the time again, where you are gonna test another android sweet version on your smartphone with advanced features and improvements.
Yep, the giant operating system with having over 3 billion active users, 'Android' has finally made its move to the twelfth version called 'Android 12'. The first beta version of Android 12 was released on 18th May 2021 by Google.
Promising advanced privacy upgrades and a total change in the graphical user interface, Google has made its public beta version on various compatible devices.
And the major release of Android 12 will take place at the end of the year with more improvements and features. In this guide, we have mentioned the list of all devices where Android 12 beta can be tested, so if your device is on the list then simply test and try by installing the Android 12 beta on your smartphone. So, let's know what's new in this Android 12 and how it's gonna change your way of using a smartphone.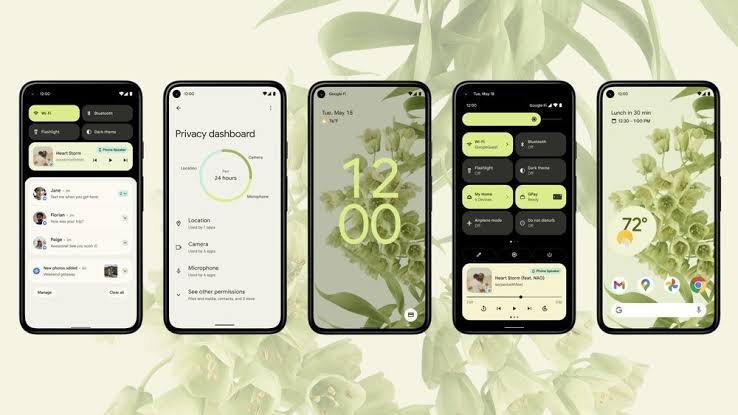 Android 12 Beta Features:
Refreshed UI (User-Interface) –
The major feature that gathered the Android 12 in the ongoing talks, is its newly designed UI. It is said that it is the biggest design change in the history of Android. From the colors to the system animations, everything has got the new UI taste which changed the entire face of Android.
Google introduced a new design language called 'Material You', which features larger buttons, an increased amount of animation, and a new style for home screen widgets. Another feature auto applies the colors of widgets, apps, and the theme of OS as per the wallpaper set by the user.
Responsive layouts let you adapt widgets to phones and tablets, and the dynamic color APIs can be used to create your personalized widget. The integration of Google assistant at the Power button lets you discover more options to pick up the right color and widget as per your choice.
The stretch effect has improved as compared to the previous versions, now the effect indicates smoothly that you've scrolled to the end of your content. Another most useful feature seen in the Android 12 is in the lock screen, where the digital clock gets resized to a larger shape when you got no notifications left.
In terms of audio transitions, the Android 12 smoothly fades out the audio when there are audio signals played from different apps simultaneously.
Improved Performance –
As always, we see the tag of improved performance in the latest release of any Android version. But in Android 12, it's like they have prepared a bunch of tests before launching the beta version of it. The new Android release has improved the battery and CPU performance by optimizing various parameters in systems apps and services.
They have reduced the CPU time needed for core system services by 22% and system server by 15% so that devices can last long with much faster requests in terms of performance. Applications that take much time at startup have seen a shorter period of launching in Android 12, which means low-memory smartphones won't need to handle the long queue while opening any huge application.
Private by Design –
What's the use of any design if it doesn't comply with privacy and data security. Yep, google knows that, and here on the Android 12 Beta 1, you may see the new privacy improvements and more data control.
The hibernation option automatically hibernates those applications that haven't been used for a long period, which overall improves the security, storage, and running performance of the OS. You get an indicator at the top right corner about the use of permissions granted to the app. you're using, which states that you can easily revoke the permissions.
In terms of location permission, android 12 has come with various solutions where users can allow the apps to scan for nearby devices without needing location permission. Apps targeting Android 12 will have an 'approximate location' feature, in which users can choose to grant either precise or approximate location.
And as per the updates, android 12 beats 1 users will see a new privacy dashboard in the new beta 2 update soon, which will show the list of applications accessing different android permissions at the current moment.
**Image/GIFs Source – Google
List of Devices getting Android 12 Beta Version:
Google Pixel 3, 3 XL, 3a, 3a XL, 4, 4 XL, 4a, 4a 5G, 5
Asus – Zenfone 8
OnePlus 9, OnePlus 9 Pro
Oppo Find X3 Pro
Realme GT
Sharp
Tecno Camon 17
TCL 20 Pro 5G
Vivo iQoo 7 Legend
Xiaomi Mi 11, Mi 11 Ultra, Mi 11i, Mi 11X Pro
How To Download/Install Android 12 Beta?
Visit the Android 12 beta website
Select the eligible devices
Click on "Get the Beta"
On each page, you will get different instructions to install the Android 12 beta, so simply follow the instructions on the page to download and install the Android 12 beta update.
And make sure you've successfully taken a full backup before diving into the android 12 beta installation, I hope you get it.
Enjoy!
You may also like-
Final Thoughts
Updates are released to provide a better function and comfortable experience to surf the particular thing which lacked in the previous version. And that's what Android 12 has come up with, a fully redesigned look with more privacy controls and much more.
I know the craze of updating to the latest released android version has its unique moment, however, to get that officially, you either need to upgrade to the eligible android 12 device or have to wait for the update until it's come to you.
Finally, I hope this tutorial about the newly released Android 12 Beta 1 has excited you to test and try, well let us know which device you're using and what are your first impressions about this Android 12 Beta version.