The banking and finance sector in India has participated more in technical improvement, and thus the term 'Fintech' is evolving with growth heights in this developing country. One such growth that we have seen in recent times is the entry of various neobanks in the current banking system in India.
As cashless payments are under the priority of the smart users, these neobanks, or we can say the 'digital banks' are under the race too. And here today, we are introducing one such virtual bank called 'Fi Money' which is aimed to provide a smooth digital banking experience and better financial planning among the millennials.
The Fi money is a fully operatable digital savings bank account partnered with a Federal bank as per RBI regulations. From transferring funds to creating demand drafts, everything is well-focused within the online bank application, where you don't have to visit physical branches to carry out your daily banking work.
Well, the startup is currently eligible for the working professionals of India who are working under any organization or company, or a self-employed individual. And as per Fi, they are taking things a step further to build cool features which suit the needs of students and others.
So, let's know, why Fi's money bank account is so unique for you and what are the features separate the neobank from others.
Features Of Fi Money Digital Bank Account:
When it comes to providing a fully digital banking experience throughout the mobile application, the founders always have some unique features and functions which attract the users to get into. So let's start one-by-one and explore the Fi money neobank features.
Zero Balance Savings Account – It's not mandatory to maintain a particular minimum amount to keep your bank account alive. Having zero balance won't be any issue factor in Fi money
Zero Forex Markup – You won't be charged while having international transactions on debit cards or foreign currency exchanges. Easily use your Fi money debit card on the international gateway.
2.5% Interest Rate For Fi Savings Accounts – Fi money savings account holders receive an annual interest at the rate of 2.5%
5.1% Interest Rates annually on Fixed Deposits – In case of fixed deposits on Fi money bank account, users receive 5.1% rate interest in their account annually
Zero Account Maintenance Fees – There are no account maintenance fees charged by the Fi money bank account. Simply create your bank account and there's no need to pay any extra charge to keep the services on.
Free Debit Card – Fi money bank account holders receive a free virtual visa platinum debit card instantly, and the physical card is issued with no charges. Plus, Zero annual card maintenance charges for the debit card.
ATM Withdrawals – Withdraw unlimited free from Federal bank ATMs, and at other domestic ATMs, there are 5 free ATM withdrawals per month and after that, there are ₹20 charges per transaction. And in terms of International ATM withdrawal, they charge a fee of ₹100 per transaction.
Free Debit Card Replacement – In case you lost your debit card, then there are no replacement charges for the first debit card. However, after that, you still lost your second debit card, the replacement card costs ₹250
Payments Charges – For NEFT/ RTGS/ UPI / IMPS payment transfers, there's no fee/charges for it. All are free to initiate any money transfer across the country.
Free Updates – All SMS /Email updates/ Mobile Banking/ Internet Banking are free of charge. Get instant notifications on every transaction.
ChequeBooks – You get two chequebooks for free every six months. Each book will contain five cheques aka 'cheque leaves'. Additional cheaquebooks cost certain charges.
Demand Drafts – DDs for up to ₹1 lakh per quarter are fee-free. In case you get DDs for another ₹1 lakh there's an additional ₹300 fee
Insights Dashboards – Fi makes sure that you spend your hard-earned amount wisely, so they timely notify you about your rent payments, the no. of times you ordered food, etc. So that you smartly manage and grow your money using Fi money bank account
*Source – https://fi.money/fees
How To Join Waitlist To Create Fi Money Bank Account?
Open the Fi Money website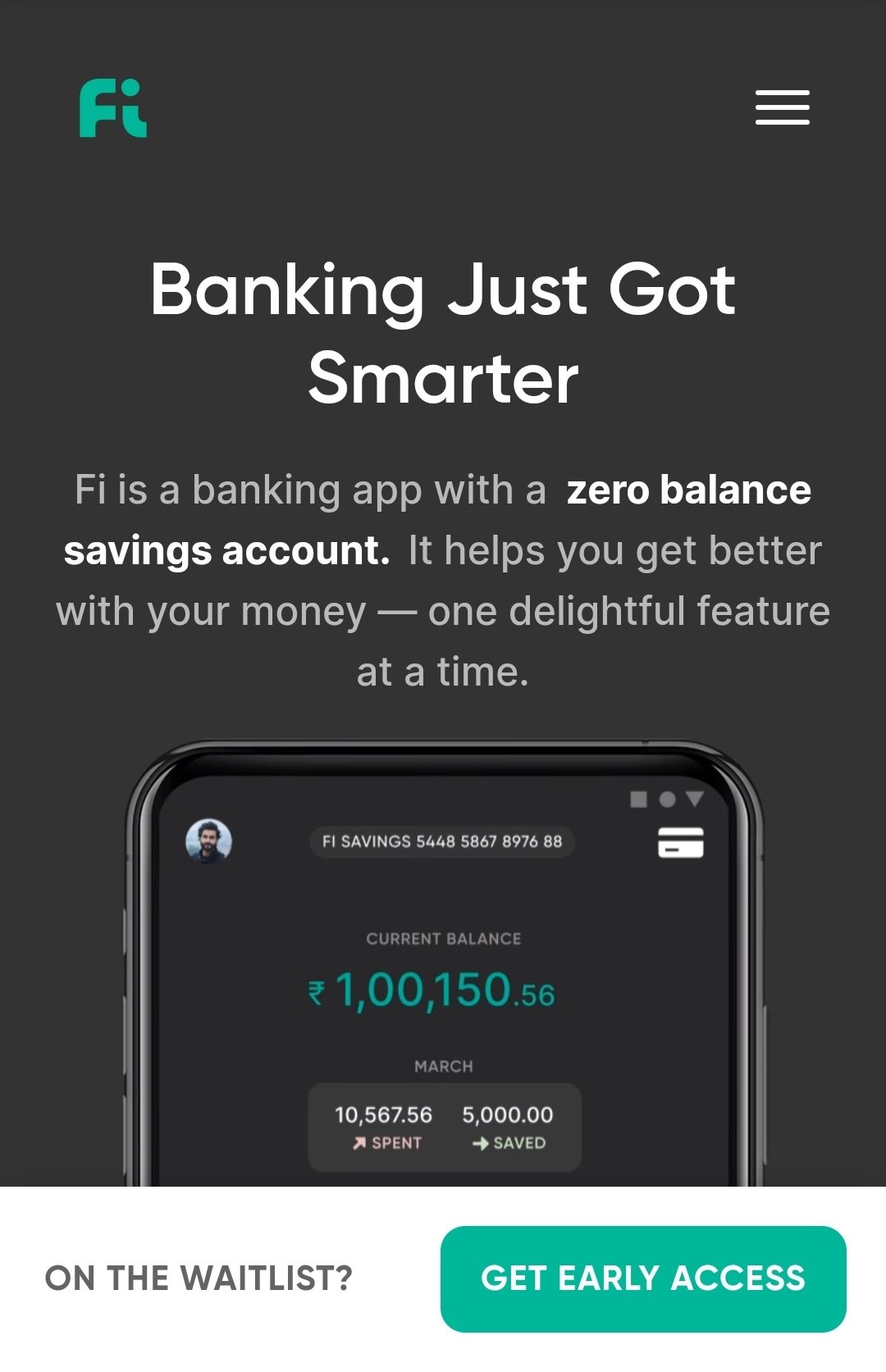 Click the Get early access green button
Enter your Full Name, Mobile No. & Email ID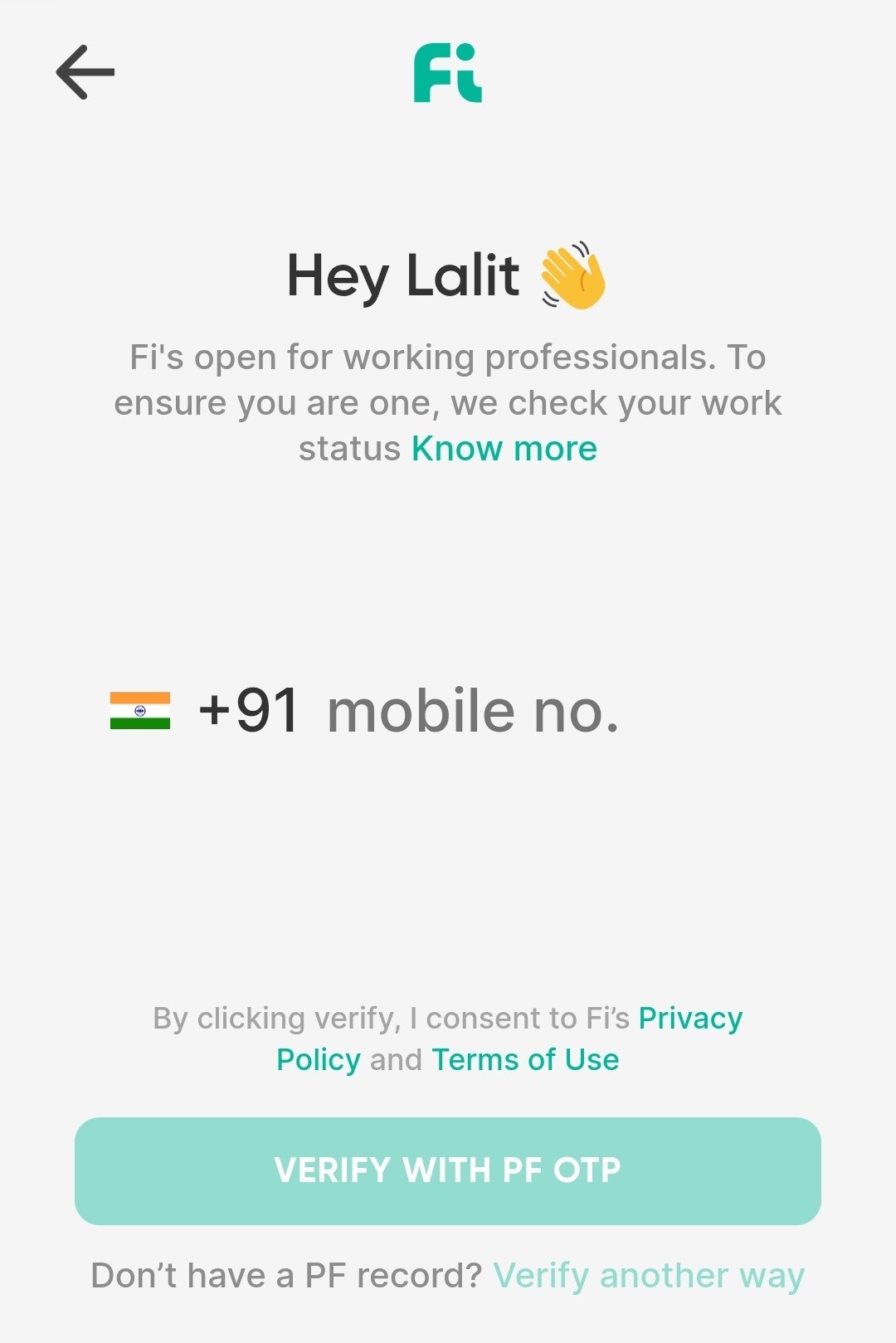 Get verified the number and email via OTP
You will be required to enter your Company name, in case you don't have your company listed there, then click the 'Not listed' option to enter it manually
Submitting this form will grant you into the waitlist of Fi Money bank account & you will receive an email regarding the joining/opening of Fi Money bank account
Done!
You may also like-
Final Words
The scenario of digital India is on the 'growth steps', and startups like Fi money ensure that. We have seen various top financial institutions who have stepped into these neobanking concepts and seeing that growth, we welcomed a lot of other cool digital banks in recent times.
And Fi money is one such alternative to those neobanks, which you can consider to create your digital bank account within minutes. I hope this guide of knowing and opening a Fi money bank account has helped you, if still something rumbling around your head, speak out in the comments section below.