Realme has launched two new budget smartphones in India under the C series — Realme C12 and Realme C15 and the Realme Buds Classic. The two new Realme smartphones are priced under Rs 10,000 and come packed with a massive 6,000 mAh battery.
Realme C15 price in India
Realme Buds Classic specifications
Realme Buds Classic wired earbuds have been unveiled alongside the Realme C12 and Realme C15 in India. The new earbuds debut as the next in the company's audio lineup after the Realme Buds 2 that was launched last year with a price tag of Rs. 599.
The entry-level Realme Buds Classic is designed for people looking at affordable, wired earphones. Realme has provided a 14.2mm audio driver that is claimed to catch "detailed nuances of music".
The earbuds also have a built-in high-definition (HD) microphone and a remote with a button to control music playback. It can also be used to attend voice calls – without taking out the connected phone from your pocket.
Realme has provided a cable organising strap to let you easily fold the TPU-covered cable of the Realme Buds Classic. Further, there is a 3.5mm connector that provides universal compatibility. Unlike the Realme Buds 2, the Realme Buds Classic doesn't include any magnets.
The design of the new earbuds is also different as these don't come with ear tips and instead offer the half in-ear build. The company claims that the rounded shape of the earbuds can comfortably fit into the ear canal.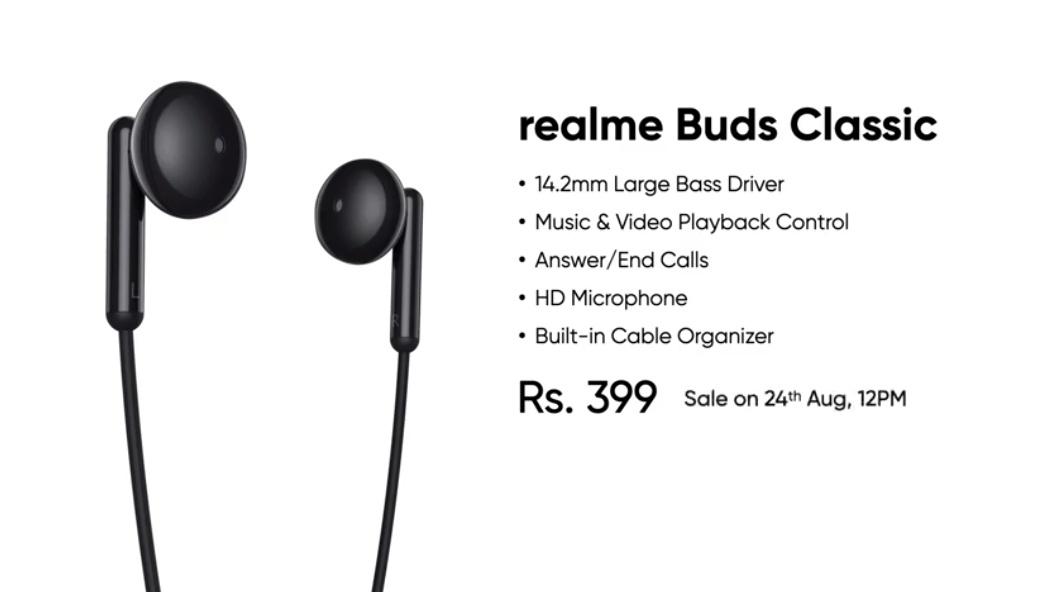 Also Read: Google Pay disappears from Google Play Store for some Indian users