Bitcoin is gaining momentum in India, and right now it is legal to buy and sell Bitcoin in India. However, there are only a handful of reliable Indian crypto trading platforms where you can buy Bitcoin.  Unocoin is one of India's top leading crypto exchange platforms that recorded over 1.5 million users. Unocoin is the first crypto exchange in India that introduced the world's most simplistic Bitcoin POS for offline traders. Unocoin is a reliable exchange and very to use for deposits and withdrawals and you easily do trade in the app as compared to other exchanges. In this article, We will share everything about Unocoin.
What is Unocoin?
Unocoin is India's first crypto asset and blockchain company that was set up in 2013. Unocoin has consistently aimed and delivered to many, be it a crypto beginner or advanced trader, we give you the power and guidance to chart your own financial course. Unocoin primarily operates and services people in India but has a goal to reach global markets as a top player.
Features of Unocoin
You can easily buy, swap and sell the most popular crypto-assets.
Low fees for buy/sell orders.
Multiple payment options to buy crypto, the most popular being Systematic Buying Plan (SBP).
Simple graphic showing your investment allocation and total balance.
You can review the transaction history for each investment.
You can create your own custom list to watch your favorite assets and buy straight from the list.
24/7 support with a single tap to open a support ticket.
Instant INR withdrawal through IMPS.
More than 50 Crypto assets are available in the app.
Refer & Earn program available.
How to Signup on Unicoin?
Go to the Unocoin website and click Create an Account button.
Register with your Mobile Number and Password of your choice.
Password must be a minimum of 8 characters and a maximum of 15 with mandatorily 1 capital and 1 small letter, 1 numerical, and 1 special character. Then, hit Submit button.
Enter the OTP that's sent to your registered Mobile Number.
After successful validation of OTP, you will be redirected to the Security Questions Page.
Input your responses as requested and submit your answers (answering six questions are mandatory).
Once successfully submitted, you will be redirected to Profile Setup Page.
KYC Process Of Unocoin
After your registration process is complete.
Click on the Profile Status Bar on the Top of the Screen to be directed to Profile Setup Page.
Here, you will be asked to enter your Bank Details, PAN Details, Aadhaar/DL Details, and your professional photograph.
Once you have entered and uploaded all the required information, hit Submit to get verified.
Note: Verification of your account will be completed within two working days.
Unocoin App Preview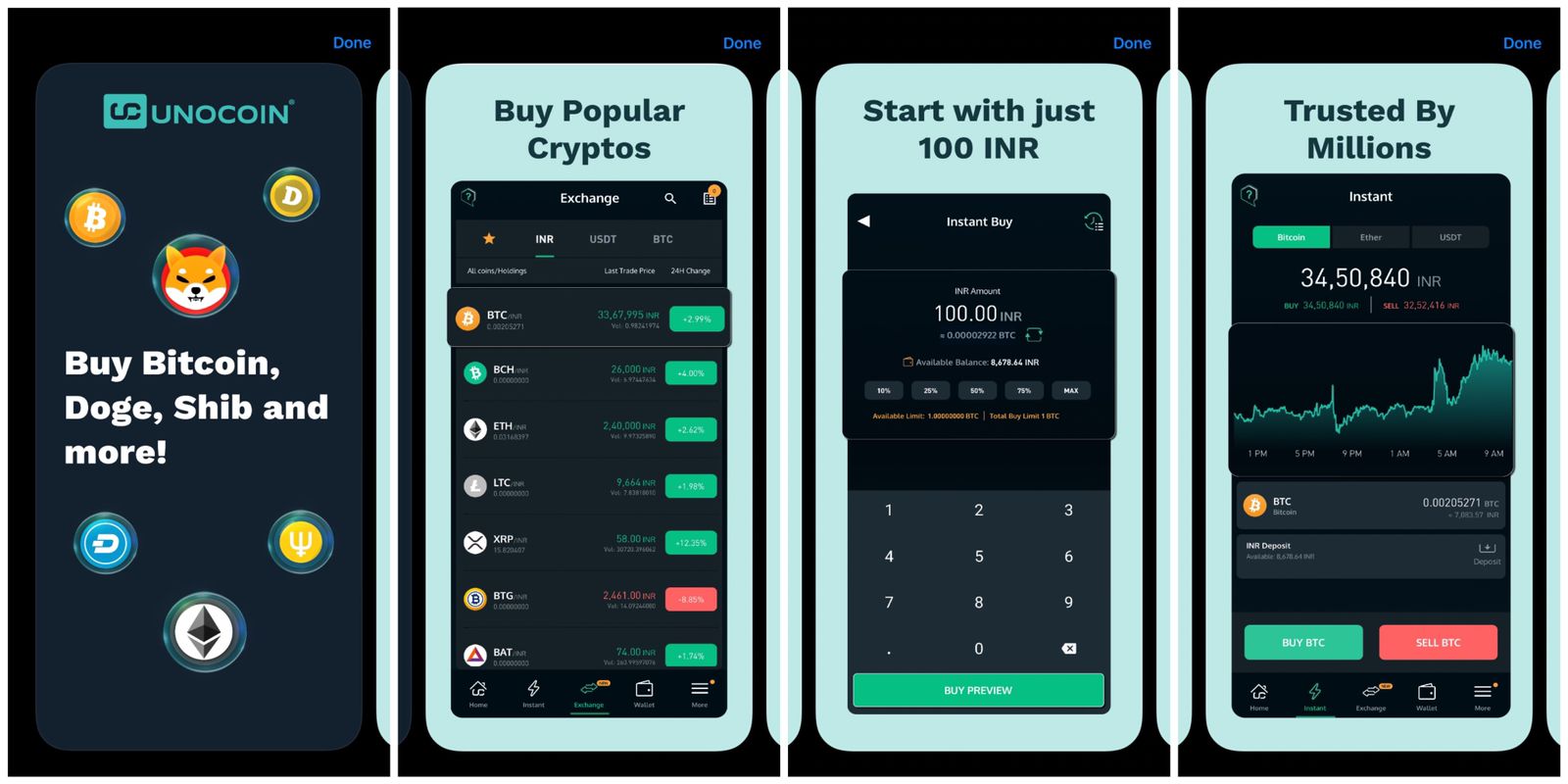 Unocoin Customer Support
For further support please go to https://unocoin.com/in/support/contactus
Mail: [email protected]
Facebook: https://www.facebook.com/Unocoin
Twitter: https://twitter.com/Unocoin
Support Service
Telegram: http://t.me/Unocoin_Group
Toll-free number: +91 7788978910 (9:30 – 6:30, Mon-Sat).
Unocoin FAQ
1. Can I buy/sell crypto assets without registration and verification?
Answer: No, you will need to register yourself on Unocoin. You will also need to provide your Bank Details, a PAN card along with an Address proof, and a photograph to complete the verification process. Once verification is complete, you will be able to buy/sell cryptoassets through your Unocoin account.
2. How to cancel an order?
Answer: To cancel an open order select the My orders to tab from the corresponding asset. Your open orders will be listed under "Open Orders". Click the delete icon and your order will be canceled.
3. What are the charges to withdraw funds from Unocoin?
Answer: INR withdrawals to your registered bank account are free of charge. Cryptoasset withdrawal charges are subject to specific network charges (miner fee) as mentioned on the fees page.
Verdict: Unocoin
Unocoin is one of the cryptocurrency exchange in India to buy cryptocurrency. This Indian platform to sell bitcoin 'Unocoin Wallet' has the best trading and Unocoin technologies for clients to avail from. Unocoin provides an excellent service for simply buying and selling Bitcoin. The exchange is clearly made for beginner traders and mass adoption due to its intuitive design and simplicity.
Also Read: How To Get An Akudo Card?
TechIHD is now on Telegram. Click here to join our channel (@TechIHD) and stay updated with the latest headlines.