In India, the term 'stock market' or 'share market' is often used as a reference to double the amount of invested money.
Well, the exact truth behind such ideology depends upon how your purchased stock's performance or the company you've invested in.
And those who have a better stock analysis skill and a good investment strategy ends up being a stock trader and sometimes, a broker.
Since all the paperwork from opening a trading account to selling shares has gone online, many fintech companies have introduced an online stock platform to hold up different types of shares and other investments electronically.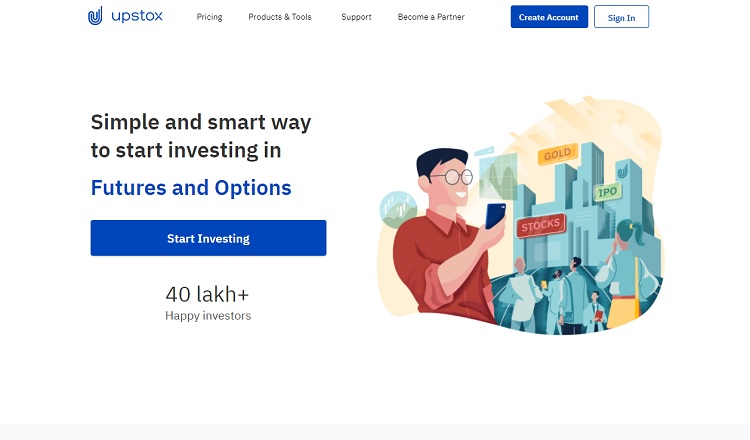 The one that we are addressing today is Mumbai, based on a stock trading platform called 'Upstox.' It is the first low-cost broking firm in India, providing trading opportunities at unbeatable prices.
The fintech company provides trading on different segments such as equities, commodities, currency, futures, options, which are available on its web & mobile version.
The Upstox account is a 2-in-1 account combining a trading and a Demat account. So that you can trade & hold securities such as stocks, mutual funds. Etc,
The account opening charges for the Upstox account are priced at Rs.249, which is quite minimal when exploring to invest/trade in stocks.
And now, if you've made your mind to dive into the share market, then it's time to make it happen. But before that, let's find out some exciting features of Upstox that you must know…
Also Read: How To Apply For Slice Pay Card (Free Lifetime Credit Card)
Upstox Key Features
Rs 0 Demat account maintenance charges.
Flat Rs 20 per trade brokerage across all segments, including delivery, intraday, and F&O at BSE, NSE, and MCX.
Mobile trading app available for both Android and iOS phones.
After Market Order (AMO) and Cover Order are available on both web and mobile.
Trailing-Stop/Stop-Loss (SL) is available on both web and mobile.
Upstox Pro Web Trading Platform offers multiple indicators to monitor markets on the go.
Margin Against Shares is available.
Online IPO Investments
Online Mutual Fund Investments
Paperless instant account opening in less than 1 hour.
Offer up to 20x leverage in intraday.
Advanced charting tools with 100+ technical indicators
How To Create an Account On Upstox
Open App & Tap on Create an Account Option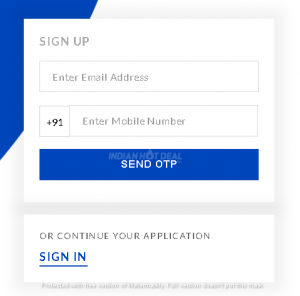 Enter your Aadhar Linked Mobile Number and Valid Email Address and Verify your Number with OTP
Enter Given Upstox App Referral Code:

QKWR

On Next Step, Enter Your PAN Number and Date Of Birth and Proceed
Select NO on Tax Residency Other than Indian and Agree on Terms and Tap on YES Option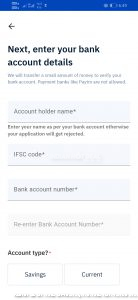 Enter your Bank Account Details where you want to Withdraw
Now Make a Signature on White Paper and Upload it
Tap on E-Sign With Aadhaar OTP Option
Enter your Aadhaar Mobile Number and Fill the captcha and Verify your mobile number with OTP
You will receive your Username and Password within 24 Hours after Aadhaar OTP Verification.
Login in to your Account and start Stock Trading
How To Buy/Sell Stocks Using Upstox
Transfer money in Upstox using Net-banking/UPI (Login > Add Funds)
In The Watchlist, Search For The Desired Stock
Enter Order Details Like Quantity, Order Type, Position, Validity, etc
Review And Confirm The Order
Done!
How To Withdraw Funds From Upstox
Open Pro Mobile App or https://pro.upstox.com/
Login with client id and password
Click the 'Rs Balance' link on the top right
Choose 'Securities' or 'Commodities' account
Click the 'Withdraw Funds' button
Enter the amount and click the 'Withdraw' button.
Refer Earn – Upstox
Earning money from other than investing stocks is Upstox's refer & earn scheme, where if you Refer a friend to open a Upstox account, you will be rewarded ₹1000 on each successful referral.
And the referred friend will have the benefits including Demat + Trading account, ₹1000 brokerage credit to trade at ₹0 brokerage for the first 30 days & Brokerage-free investing in Mutual Funds and IPOs forever.
To start referring, follow the below steps to get your referral link.
Open the app
Click on the Profile icon
Choose Refer & Earn option
Start sharing the referral link & referral code with your friends
Enjoy!
Wrapping Up
After watching the 'Scam 1992' web series, even the noobs with no knowledge about stocks started investing in the share market. Well, there's no hate to the newbies, but if they could show such enthusiasm, then it's your time to test your stock analysis skill to make some handsome profit using the Upstox app. If something bothers you while creating the Upstox account, then let us fix that issue.