Are you looking for How to get more engagement on your Instagram account?
Nowadays, before doing collaboration brands need to check further into their performance and track comments, saves, shares, Instagram Stories views, and even DMs to understand how they are performing. In this article, I will share that how can you increase your Instagram engagement with the help of Reels.
What are Instagram Reels?
Reels are short, entertaining videos on Instagram, where you can express your creativity and bring your brand to life. People come to Reels to participate in cultural trends, collaborate with the community and discover new ideas.
How to Create a Reel?
Step 1: First, open the Instagram app on your smartphone.
Step 2: Next, swipe left or tap on the + icon.
Step 3: From the given options select Reels at the bottom and start creating video.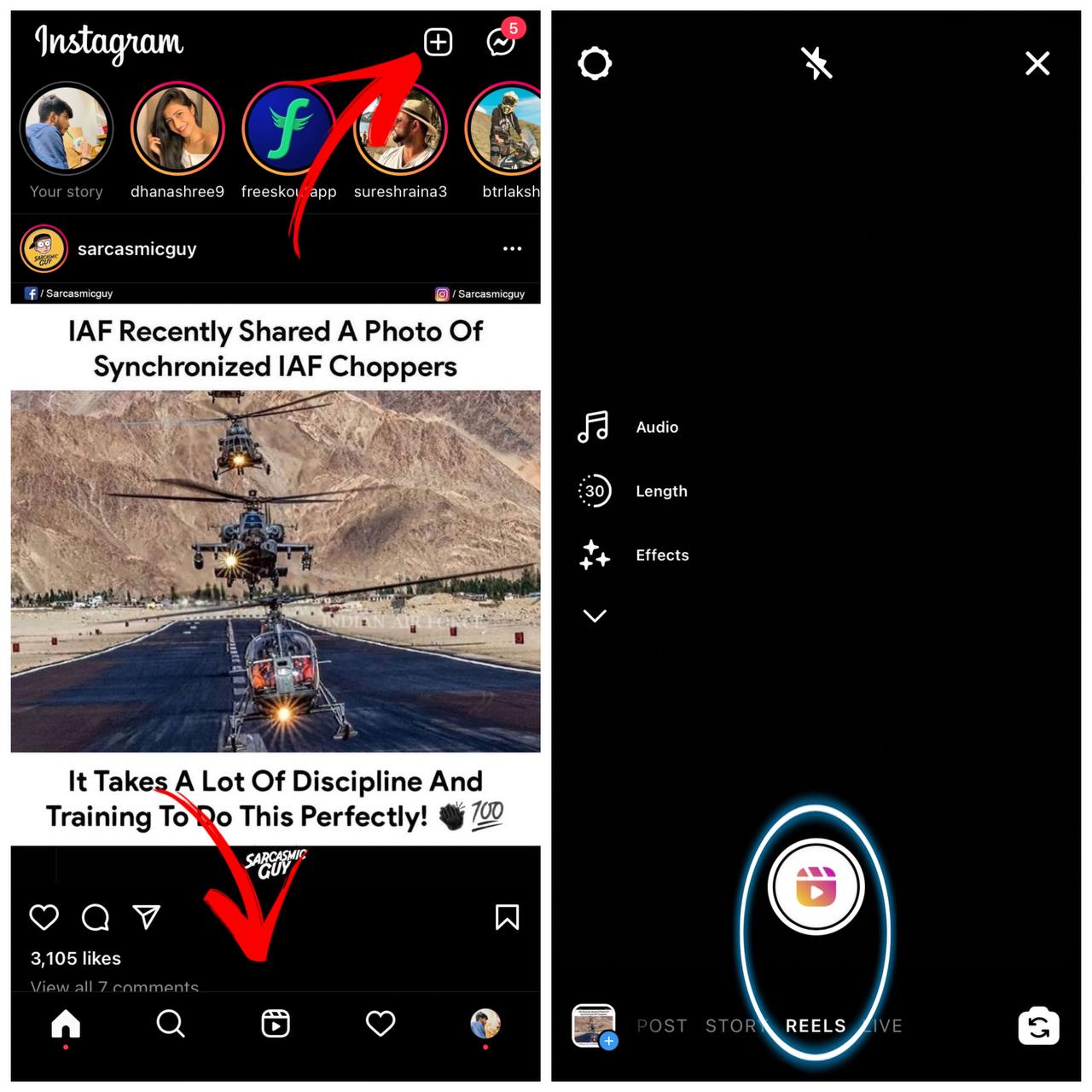 You can also add any video from your smartphone's gallery and then select music from Instagram and set speed and other things.
How can you increase your account engagement with Reels?
Engagement is more than counting your views or followers. It's about measuring the interactions that your audience makes with your content.
Step 1: Choose your best time to post the reel: Instagram's algorithm focuses more on those posts that generate a lot of engagement in a short period of time, and will often move that post to the top of your followers' feeds.
Step 2: Experiment With New Ideas: Keep searching for new ideas for your reel according to your audience. Try to create reels on the latest and trending topics so you will get good engagement.
Step 3: Must add Captions: There might some people in your audience who are hearing impaired and cannot actually listen to what you're saying while they saw your reel. That means they can't enjoy your Instagram Reels unless you include captions. Also, you have to consider that sometimes people scroll through their feeds with the sound off.
Step 4: Catch viewers Immediately: The first few seconds of your Instagram reel are the most important. You want to do or say something that stops the viewer to see the video. This might be an attractive text or a sticker along the top edge. It might be the first words out of your mouth.
Step 5: Use creative edits and Sound: If you want to keep viewers watching longer, add some interesting edits and creative transitions with sound to keep their eyes engaged on your reel.
These are some of the tips you can keep in mind while posting a reel and I am sure you will get good results after following these simple steps. Now let's talk about some other ways to get more engagement on your Instagram account.
More ways to increase Instagram Account Engagement
1. Post at the right time
You might don't know that there is an optimal time for you to post your Instagram content? Publishing content when your followers are most active is one of the most effective ways to boost your engagement rate, especially as I already said the algorithm favors posts with good engagement in a short space of time. To check the best time to post, you can analyze your analytics over a period of time.
2. Post Content Consistently
By keeping to a regular posting schedule, you're essentially letting your followers know what to expect from you. It builds a consistent experience for your audience. Posting more consistently can also help with your Instagram engagement.
3. Create and Post Stories
By posting to Instagram Stories more often, you have a better chance of reaching viewers as they browse their daily stories — and the more views you gain, the better your ranking will be.
4. Start adding stickers to your stories.
Instagram Story stickers are a great way to engage with your audience, There are many different types of stickers you can use:
Question stickers so your followers can ask you about a particular topic, or you can ask them a question instead.
Quiz stickers for polls with multiple answers.
5. Go live
Using Instagram Live to stream live video is a great way to connect directly to users, share news, and build engagement. In your Live video, you can answer questions live, welcome viewers by name, and generally welcome your audience into your world in an engaging way.
6. Use Hashtags
Hashtags are an important way to expand your Instagram audience and get more reach. When you use a hashtag, your post will appear on the page for that hashtag. If you use a hashtag on your Story, it could be included in the relevant hashtag Story, which also appears on the hashtag page.
Conclusion
So, if you're serious about using Instagram and you want more engagement on your account then you should start creating Reels as part of your content strategy, do it consistently. It's the best way to ensure you're seeing the results you want in terms of growing your Instagram presence. Also, follow other ways too such as using stickers in stories, posting content consistently, and using hashtags. Don't give up on anything especially on Reels and Keep going because you never know when one might go viral.
Also Read: IHD Deals App- Latest Deals, Cashback Offers & Coupons In India
TechIHD is now on Telegram. Click here to join our channel (@TechIHD) and stay updated with the latest headlines.